The winds are consistently awful in the Bay Area and the courageous angler will be rewarded with short halibut most of the time. Not worth it. So I ventured to the seashore yesterday and took on the huge mixed swells and strong wind waves, to 8 feet. The wind itself was steady at 12 knots. Hard to keep up with even a short leader because the water came straight in and the period between crests was brief. Lots of foam walls. Deep fog cover. Got there at Noon; left just before 3. Slow action and quite a bit of roaming. No measurable schools, just the occasional hit or miss or slam. I quit at 7 but could have limited--or caught even more if that was the way I rolled. They are not huge slabs, but they'll do. I have over five pounds of meat ready for a super scampi.
I was surprised--and a little sad--to discover that a few had small babies inside. There was no observable evidence before butchering. The gestation period does extend into July, but most times at my location they are done by mid-June. Ah well. Had I known in advance I would not have kept any. Or even fished there. The largest one was a male with gonads bright and ready to spray. All fish had recently dined on sand crabs.
Ugly Stik Intercoastal 6'6" with newer guides
P-line CXX 6# test
Shimano Sahara 1500 (ancient reel!)
Size 4 Owner SSW
1oz Egg Sinker
Pumpkin Seed Grub
Standard Carolina Rig
Thursday 2021-07-15
Sunrise 6:00 PDT, Sunset 20:32 PDT
Moonrise 11:41 PDT, Moonset 0:15 PDT
High Tide: 2:57 PDT 5.0
Low Tide: 9:41 PDT 0.1
High Tide: 16:43 PDT 5.3
Low Tide: 22:36 PDT 2.3
Pelicans
Canada Geese
Ravens
Coyotes
Redwoods and Chaparral
Hard to live here sometimes!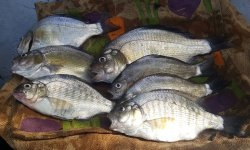 Last edited: