Went back to Dana Point and started at the pier. It was super dead at the pier. Granted I didn't stay long but casting in a bunch of spots with a hi lo with a piece of lug worm and shrimp and got absolutely no bites searching. Tried different spots, depths, casting out and slow retrieving, casting out to the nearby other structure. The jetty was peppered with lots of anglers and I was the only one on the pier so I paired down my setup and headed for the jetty.
Did a couple casts in the surf area where there is a little alcove created by a small island. Got some bites there but the surf was churning too much and the risk of snagging was to great so I headed further down the jetty about 1/2 way to the bend.
There I started getting consistent bites and landing a bunch of black perch. There were lots of other anglers on the jetty and most were targeting Opaleye with very long poles and slip floats with green peas. I saw one large opaleye landed and another angler walking bag to shore with another opaleye in a bag that also look to be a very good size.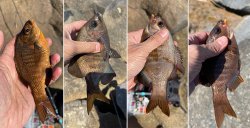 I found the rocks at this jetty significantly less snag prone than Newport. Perhaps there is less kelp or less of the type of kelp that snags lines and is difficult to get unsnagged. I did snag my hi lo rig a couple times. The second time resulting in the loss of my sinker and my bottom hook. I tied a new 1 ounce sinker and left a single size 8 mosquito hook. This rig proved to me fairly snag resistant and I started fishing the rocks with more confidence.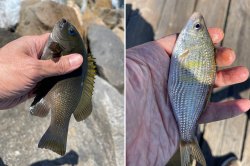 I ended up catching 10 black perch, 1 small opal eye, 1 blacksmith, and 1 small kelp fish. I added 2 shiner perch at the pier after I returned from the jetty and tossed my line a couple times to see if conditions had improved. In total I fished from 9AM - 12:30PM.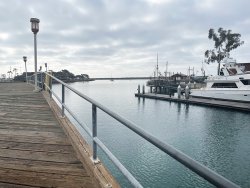 Couple practical notes. The parking lot here is free and there is a public restroom with a short walk from the pier. There is no fish cleaning station or boards for cutting bait. There is a drinking fountain on the right side of the pier about 3/4 of the way down. The walk out to the jetty I would consider to be slightly easier than the newport jetty. The rocks are smaller and flatter and there are less areas where there are gaps in the rocks.
Last edited: