I dedicated my latest fishing endeavor to the late Eloy who fished the Richmond pier. First impressions are everything to me and Eloy was always warm and welcoming to me the handful of times I have fished Richmond. I will never forget the people who were kind to me in life.
Never
. You can also say the contrary. Fish in Paradise, Eloy.
Got to my fishing spot late because I ran into some horrible traffic. Caught a couple of shiners and a few topsmelts. Soaked a shiner on one line and soaked a smelt on the other. I wasn't feeling it with the smelt I had soaked, so I tried to catch more bait and ended up catching a couple of anchovies and replaced the smelt with the biggest anchovy.
Don't worry, Robert, I don't fish with more than two lines any more.
About an hour later, I got a bite on the live anchovy using one of Sir Songslinger's recommended go-to rigs. Thanks, G. Even though I still had a slight problem with crabs stealing the bait, the rig you had suggested worked! I added my own twist to your recommended rig: Spin-N-Glo's. I rushed across the pier with my crab net and up came a 24" halibut. Thanks, Jack, from Sea Forager for offering to net my fish and getting my net ready. I netted that fish myself in one fell swoop. There's nothing more rewarding to me than catching your own bait and netting your own fish with hardly anyone around. I could've gone to a certain spot that has been putting out about 20 halibut a day for about 30 people in the past week, but I'm not into that type of fishing. I'd rather skunk in a ghost town than to catch limits in a crowded 3rd world $h!tshow. But, not today. The fish weighed in close to 6 lbs. 5 lbs. 15 oz. to be exact. Eloy, like they say, "This fish's for you!"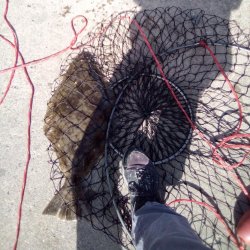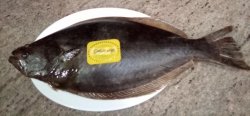 Amount spent on bait this year: $0
Amount of fish caught and lost this year: Too many to count
Rig Used: Songslinger Special
Bait Used: Live anchovy
Last edited: