Took my girlfriend, sister and dad fishing at Cabrillo Mole in Catalina. We all took the 6:30AM boat from Long Beach and my sister and dad took the 4:30PM back while my girlfriend and I took the 7:30PM back.
Everyone had a good time fishing. The bite was slightly better than my last two trips to the Mole but our baits were getting too much attention from small wrasses and garibaldi. The white fish bite is slowing down. I did see a crew fishing the left corner pull in three white fish later in the afternoon but they were much less present than previous trips. We also caught more calico bass today than on previous trips but no keepers (biggest was 12"). Best performing bait was definitely shrimp. Anchovies also seemed popular but very difficult to keep on the hook.
I caught 4 keeper sheephead. All of them were on the smaller size between 12.5 and 14" My girlfriend caught a decent amount of sculpin but only one was keeper sized. My Dad caught a good sized giant kelp fish (about 14"). This was the biggest giant kelp fish I have seen and it was nice for him to have a notable catch that garnered oohs and ahs from the folks waiting from the ferry.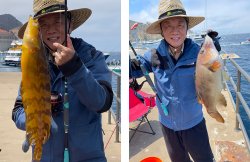 We caught a couple smelt on the day and used them both for bait. The first smelt hooked us a good size fish. The fish took off and we hit the clicked on my baitrunner reel and felt a good sized fish. As soon as we started applying pressure to the fish, the line snapped. The 20lb flourocarbon leader I was using had gotten frayed from an earlier sheephead catch and I was too lazy to change it out. Lesson learned through the disappointment of losing that fish.
Whenever I bring guests that don't have their own setups I lend them my straight braid setups so that have a better chance to feel bites and resolve snags. I had much more enjoyable time fishing today because I took the mono top shots off my two backup setups and fished straight braid. Because of the kelp snags and the subtle bites at the Mole I fish much better with straight braid than mono. All and all it was a good time. I'm happy I got to go out fishing cause it has been tough get out as things start to pick up from the state re-opening from Covid restrictions.

Last edited: