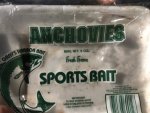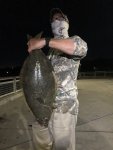 The fishing has been really slow. One of the most unusual seasons I have ever seen. Seems like the boats are the ones that are really successful because they are moving to the bait-balls.
I did have a "fluke" of luck with a halibut yesterday evening after a series of unsuccessful trips. I have been having some luck with 4 to about 4 and 1/2 foot leopard sharks 🦈 in Emeryville and have fished the Emeryville Pier in recent weeks (all released). And even that has been hit and miss with some fruitless attempts.
I embarked on a trip yesterday late in the day after transferring my PVC pipes from an old collapsible grocery cart (fishing cart) to a new one I scored at Lucky's (the last one they had that was $19). You know the ones: I call them "granny carts." Anyway, by the time that was said and done ✅ obtaining some black, plastic, zip ties from the dollar-store to attach my PVC, I was off fishing about 7pm.
I thought maybe I could get a halibut at/by sunset, but I also brought a long rod with a conventional reel to throw for striper or shark 🦈. I set out first to catch some shiners with market shrimp 🦐 bits but did not get any. I threw a small Castnet of three feet but was unsuccessful at getting any baitfish. The only other bait I brought with me was some refrozen bag anchovies. I baited up with those but got nothing. By now, it was sundown and the couple people there left with a couple more arriving. The guy that left said, "You want these, I have a couple anchovies left ?" I said, "Sure, thanks." He had left me two anchovies from a tray. By now, it was 9pm and I took one of the two anchovies and baited it up by going through the head and half/hitching the rest of the body. I used a hook I had left over from those prepackaged Eagle 🦅 Claw that are like 7/0 octopus and come snelled with like 3ft of 40# mono in 6packs.
So, I long cast it out with an 8oz River sinker on a slider on a Penn Prevail 11' Rod and a Shimano Charter Special and set it a rod holder. A few minutes later, I hear click....click...click. I go over to the rod holder, pick up the rod, feel a few jerky bites and swing the rod upward and start reeling in. It's dark already.... I set the hook again as I say out loud to a guy there "I think it's a leopard shark 🦈. He asks me if I want him to get a net and I say yes. As it comes near, the guy says "It's a flounder" as the fish is near the surface. I say, "No, it's a halibut" as I ease off the muscling in of the fish. A few more jerky runs and the guy, William, successfully nets the fish pretty skillfully in a matter of minutes.
fished 7-10 pm with the top @ about 1am
28" Cali Hali and dense.
Last edited: