Quick report from cell.
Had some business to take care of that brought me to Fremont. Gave me some time to fish this pier I used to frequent a few years ago.
Fished approximately 11-2
Tide was topping about 11 @ 7.6'
Water was in and high around the base of the pier with many small anchovies schooling about
-It was pleasant to get out there with bright sunshine everywhere. The pier had people on it with the most congregations at the end where the channel is.
-I set up over halfway down past the green portapotty in an available seating booth on the south side. I setup two rods in Rod holders on the northside as the tide had turned and already turned that direction.
-1st note the water is still only about 6 feet there even with the tide in. I figured I would try for striper as I was able to jig up about 2 dozen anchovies on small size 14 hooks.
-2nd note: the action isn't very good on outgoing tide (save perhaps the channel at the end).
-Nonetheless, I had a good, hot time! Only saw and heard of a few bat rays for the entire pier.
-A DF&W surveyor, Terrence, was out collecting data and didn't collect much. He charted my anchovies catch.
-Left at 2 as the tide was going out halfway and I needed to go anyway. Oh, a couple small Leo's at the end according to the surveyor as well!
-Final note: slow out there; sharks would be your best bet at the end (if you can get a spot). Maybe some striper coming with all the anchovies around the pier. And perhaps sturgeon in another month when we get some wet weather! Used some salmon/steelhead rods and size 2 light circle hooks with a couple ounces of lead (as I wasn't in the channel).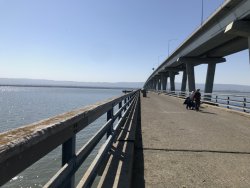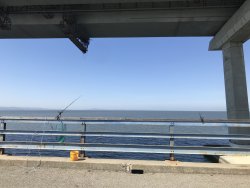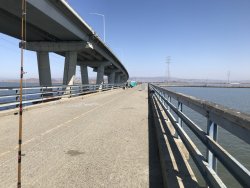 Last edited: