25 Pier kids
24 caught fish
1 healthy 19" striper as grand catch
The best weather ever in all the years I've volunteered at Martinez Pier.
Pictured is one of pierfishing's living legends (started on pierfishing as a 9-year-old) Justin Morris, now a commercial California halibut fisherman and also works on Capt. Steve Talmedge's "Flash Fishing" sport fishing boat in the winter.
The other pictures are: Capt. Steve Talmedge, PFICER's: Baitchucker, Red Fish, and SofaKing. XPostman from PFIC was there but missed the reception photo-op.The photos are from the reception/awards.
Note: if you wish to see pictures of the derby kids, please go to DiamondClassic.org as I have no authorization to take kids' photos at the event.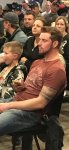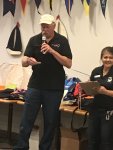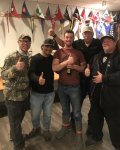 Last edited: