I went out on a sport fishing boat yesterday to fish the depth off Fort Bragg. I joined 8 other anglers on Sea Hawk from All Aboard Adventure departing Noyo Harbor at 7am. Due to the salmon closure some of the fleets there are targeting 400-500' depth for the bottom species that have not been fished lately. It's pacific halibut fishery and saw this boat landing some past week. There were also a lot of chill pepper rockfish and sablefish. It's only a few miles ride out to get to the 400 and above feet depth from harbor (30 min ride). There were quite a few small vessels gathered up in the area. We fished with hi lo rig with mixture of feathered jig, swim baits and cut squids.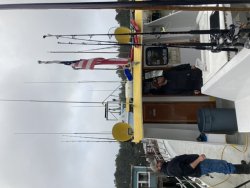 Alongside others, I managed to land some nice sized chili pepper rockfish and a large canary rockfish: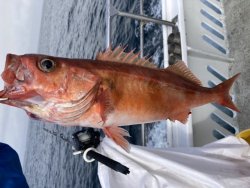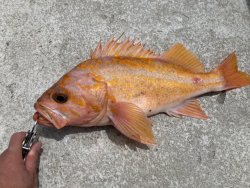 What I really wanted to find was sablefish aka black cod. It's a delicacy among my folks. Miso marinated black cods has been a staple fare in upscale Japanese restaurant in the US for past decades. I knew they resides in our water but I have never managed to land them. I brought homemade miso with me for this trip so I am ready. Fishing them was only a matter of finding spots. They seem to be eager to bite anything we offer rather quickly. I managed to find a couple: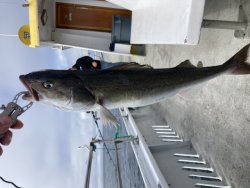 Before we head back to the harbor a school of yellowtail rockfish hit and I managed to land one in mid column, my first ever: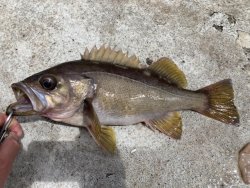 It was a nice outing all and all. I found 6 chili peppers, a canary, a yellowtail and 2 sablefish. Only one pacific halibut was landed by an angler who was targeting them specifically. I have to learn how he does it for the next time but it appear to be similar to what folks use for California halibut fishing.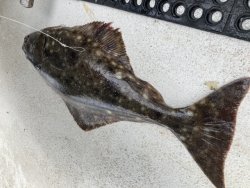 Noyo harbor looks to be very interesting working harbor/port. Some commercial fishing activities going on as well as some others from bygone eras.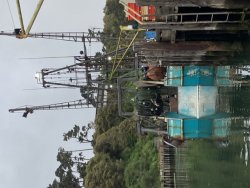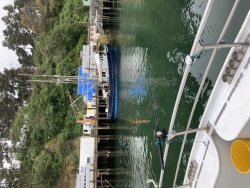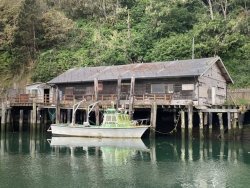 At PFIC site, it says Noyo harbor fishing pier existed but no longer open for fishing. I will check on that.
Last edited by a moderator: