Combined two of my passions in the same trip. Went to Catalina with my girlfriend and parents. Attended the Catalina New Year's Eve Ball at the Casino. We ate delicious food and danced the night away until the count down. The ballroom there is the largest circular ballroom in the word without supporting pillars.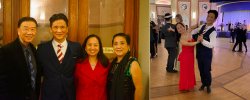 Next morning I fished with my father and girlfriend. Fishing was a bit slow and the over growth of kelp is the worst I've seen at Cabrillo Mole. Options were to fish straight down or cast far out and rapidly retrieve to try to skip your fish or tackle through the kelp. Anything else usually create a snag that had to be resolved. We did manage to catch many of the usual species: kelp bass, rock wrasse, blacksmith, blue perch, sculpin, sheephead, garibaldi, and giant kelpfish.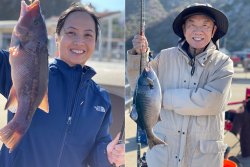 Notable catches, my dad landed a couple very good sized blue perch that gave him thrilling fights. I hooked 3 keeper sized sheepheads, landing 2 and losing one to the kelp right at the surface near the mole. Did not see any opal eye or bonito caught by anyone while we were there. We fished from 8:00AM-5:30PM and left on the 6:30 boat.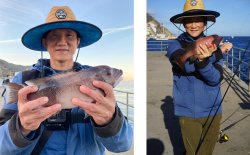 Total fish count for me was:
15 Calico Bass (most very small, largest 11")
7 Garibaldi
5 Sheephead (2 keepers 14", 16")
3 Rock wrasse
2 Sculpin
2 Blue Perch
1 Giant Kelp fish
1 Ocean whitefish
We stayed at the Catalina Canyon Inn (formerly the Holiday Inn). Pretty nice rooms there and the grounds of the hotel have an interesting and peaceful garden type layout. We also were able store our considerable fishing gear at Avalon Blue Line luggage (thanks Mahigeer for the info). I was able to store my pier cart, tackle box, soft cooler, and 5 rods for $40 from 3:30PM on New Year's Eve to 7:45AM on New Year's Day.