I started fishing at 8:30 am, at the bottom of low tide. Fifteen minutes in I got my first bite and pulled in a halibut about keeper size, but let it go because I didn't want to carry it around all day while I kept fishing.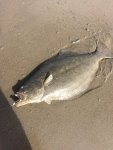 A few yards down the beach I had a second bite and felt a halibut on but lost it on the way in. I kept walking and fishing for a while with no action, then I snagged someone's broken off rig with a 2oz torpedo sinker and brand new hooks and swivel
When I pulled their line in to wrap it up and dispose of it, there was a little crab tangled in the braid which I cut free and sent on his way. Later on, something hit my swimbait just as I started reeling it in, which turned out to be a 20" striper. I took this one home for dinner.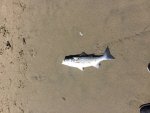 After that I had another halibut that escaped halfway to shore, this one throwing the hook at the surface with a splash. Maybe I'm not setting it hard enough on these guys. Shortly after that I had something on that was shaking and made a big run along the shoreline, had me running to catch up. I finally hauled up a wing hooked bat ray onto the beach. That was the last action before I headed home.