I fished Sunday and Tuesday mornings at San Clemente casting out to the reef at the end of the pier. Bite was slower on Sunday but I did manage two better fish. The quality fish were caught on my shorter casting setup. I bought a Shimano Baitrunner 8000 reel to put on my Daiwa Emcast 12' Rod. This bigger reel balances this longer rod better. I then took my Baitrunner 4000 and paired it with a 8' Okuma Rockaway rod for a shorter casting, lighter setup. With the better Shimano reel, I can still hit the reef consistently on casts even thought they are significantly shorter than the long casting setup.
I fished two size 6 Kahle hooks on my shorter casting setup and two size 1 Kahle hooks on the longer casting setup. The longer casting setup was quiet for most of the day and the bite in general was pretty slow on Sunday. I fished from 7:30AM - 2PM.
On Sunday I ended up with:
1 Sheephead (15")
1 Opal Eye (13" - personal best)
5 Walleye Surf Perch
4 Jack Smelt
1 Female Rock Wrasse
1 Small Octopus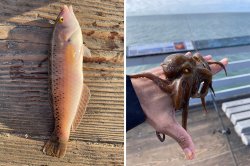 There were lots of tourists and kids on the pier and the octopus I got spiked everyone's curiousity. I let a little girl hold it and release it and she got a kick of seeing it swim off in a cloud of ink as it hit the water.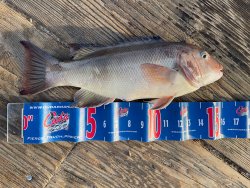 The sheephead I caught was a fun fight on my lighter setup as it violent shook its head and swam laterally on its way in. The opal eye strike was also exciting and it hit on the edge of the reef while I was slowly retrieving.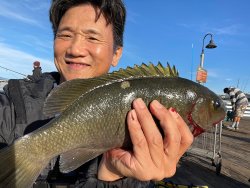 I was sharing the end mostly with anglers targeting sharks and the bite was pretty slow especially if you were unable to hit the reef with your casts, so I do not remember seeing any other catches on the day.
Tuesday morning the bite was better although I had difficulty hooking fish with my new larger Kahle hooks. It was easier to find bites this morning but you still had to move your bait around until you were able to feel the bites. I fished from 8:30AM to 1:30PM and ended up catching:
2 Sheephead (13" and a smaller one)
1 Black perch
1 Giant Kelp fish
8 Jack smelt
3 Walleye surf perch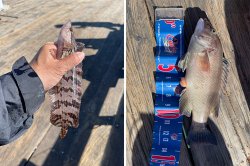 There was a decent size opal eye and black perch caught by other anglers while I was there. All in all a couple morning of fun winter fishing. I've really been appreciating the time I've been able to spend fishing. No matter what is happening, I am enjoying the things that I am doing and feeling a connection with the ocean.