I finally was able to convince my daughter to bring my (4.5) years old grandson to the city of Avalon on the Catalina Island for visit and mostly (I had hoped) fishing.
Here is a short report (by my standards) about that trip.
Wednesday August 22, 2018
I got up at 3:00 AM to get ready to leave the house at 4:00 AM for the Long Beach Terminal of the Catalina Express.
1-With very little traffic on the freeway, it did not take long to get to the terminal.
2-I like to get to the terminal early enough to be the first in line.
3-Here is a list of items that cannot be transported on the Catalina Express.
For anglers, the no kayak-- and no fishing poles over 9'--are important information to know.
4-We were on our way in good speed when we saw some dolphins. Last time, the captain slowed the ferry and made a big circle, so everybody can see the dolphins.
This pod was small, so we kept going. Could not get a picture either.
If there was no wind; or if it was blowing toward the water, casts would go further out. That would make it possible to cover more area on the water.
However, with a breeze, it was also really hot.
5-The wind conditions would change during the outing.
6-Thare is some kelp on the bottom, but none on the top. Most are gone perhaps due to warmer water temps.
7-I setup my "fishing camp" in the middle, since other anglers on the boat took my regular spot.
Fishing under the umbrella made the hot weather more tolerable.
8-First order of business was to clean one of the cutting boards on the Mole.
Before:
After:
I use carpenter's wood scraper and wire brush to clean the board. The scraping is actually a great chum.
Rest of the family arrived by 11:00 and noon respectively.
I setup a spin casting rod for my grandson which did not worked too well. Later I setup a spinning setup and it was better.
I used some peas as bait.
There were lots of fish attacking the extra peas offered as chum.
9-My grandson reeled in this Opaleye with help of my daughter. His first saltwater fish.
It was getting around lunch time and he was getting tired, so my wife and daughter left.
It was then that he saw the jungle Jim.
10-Once my grandson discovered the pirate themed jungle Jim, fishing became less important.
I stayed to fish at the Mole while the family had a great lunch at the Catalina Grill restaurant. I had a sandwich from the snack shop on the Mole. Staying to fish was more practical, since I had unpacked already.
I started to cast the Cast-A-Bubble rig with feather for bonito.
In the past several outings to the Mole, I had noticed that the bonito do not show up until after 2:00 PM!
11-This angler proved me wrong (not hard to do) that bonito do show up before 2:00 PM!
Well, sure enough I had my first bonito hookup at 2:05 PM. The second smaller one was landed and released later.
Around 4:00 PM I packed and went to look for my grandson and his father who were swimming.
They were done swimming and were at the Hermosa Hotel, where I headed too.
A shower, a change of clothing and we met at the Bluewater restaurant for a great seafood meal.
After dinner the family was tired and went back to the Hermosa Hotel. I stayed out for a while and then joined them.
12-This was the first time I saw the Movie on the beach in Avalon. They make it fun to be there.
It reminded me of my time in Istanbul during my youth. Where there were outdoor movie theaters with wooden seats nailed together. The whole neighborhood would be there with their homemade cushions. You could purchase snacks as well as hot tea. Smoking was allowed too! The ticket cost would be like $1:00 if I recall.
Before going to bed I walked to the end of Green Pleasure Pier, to see anybody fishing. I had brought bat ray setup, but I was too tired to stay up. Remember I had gotten up at 3:00 AM the previous night.
Besides, I had one more night to fish for bat rays.
13-A fisher bird looking for his pray. Black-crowned night heron. They usually show up at night.
Thursday August 23, 2018
After a nice breakfast at Jacks coffee shop, I headed to the Green Pleasure Pier. I setup one rod with peas for him. He was at the jungle Jim, and joined me before I was setup.
With all the ropes at the end of the pier, it was a challenge to have a kid reel in a fish. I had brought with me for him to use a two step stool.
He was afraid to go up to the second step, which added to the challenge.
14-His first calico bass.
The family took the 11:45 AM boat, and I stayed behind for two more days of fishing.
15-For the most of time I had the pier to myself. There would be some anglers, but they never stayed long.
In addition to the umbrella, the camping chair with cover was very helpful to keep the sun out while sitting to rest.
16-Lots of bait fish. I would chum with bread crumb to keep them busy, so my hooked bait would get to the bigger fish.
17-Bonito did not make a good showing. This one was late at 2:05 PM!
I had to scrap the bat ray fishing, since I noticed that landing a large fish would be a big challenge at the other pier. The surface of floats is about (3) feet above the water surface. Pulling a big bat ray by myself without a net would be very difficult.
So I settled to pull smaller fish at the Mole.
18-We had an almost full moon.
I setup one rod with conventional reel and squid as bait. The second rig that I used was a spinning reel and one hook rig.
19-The anchovies were the bait of choice. However, after thawing and freezing again, what I had brought with me from home, were too soft.
I used the tail section on the hook and rest as chum before dropping my hook.
The squid bait went untouched by the fish at the Mole and the Green Pleasure Pier.
20-One of the god knows how many short calico bass that I caught during the outing.
21-Although this Sculpin fish was exactly legal, it was released.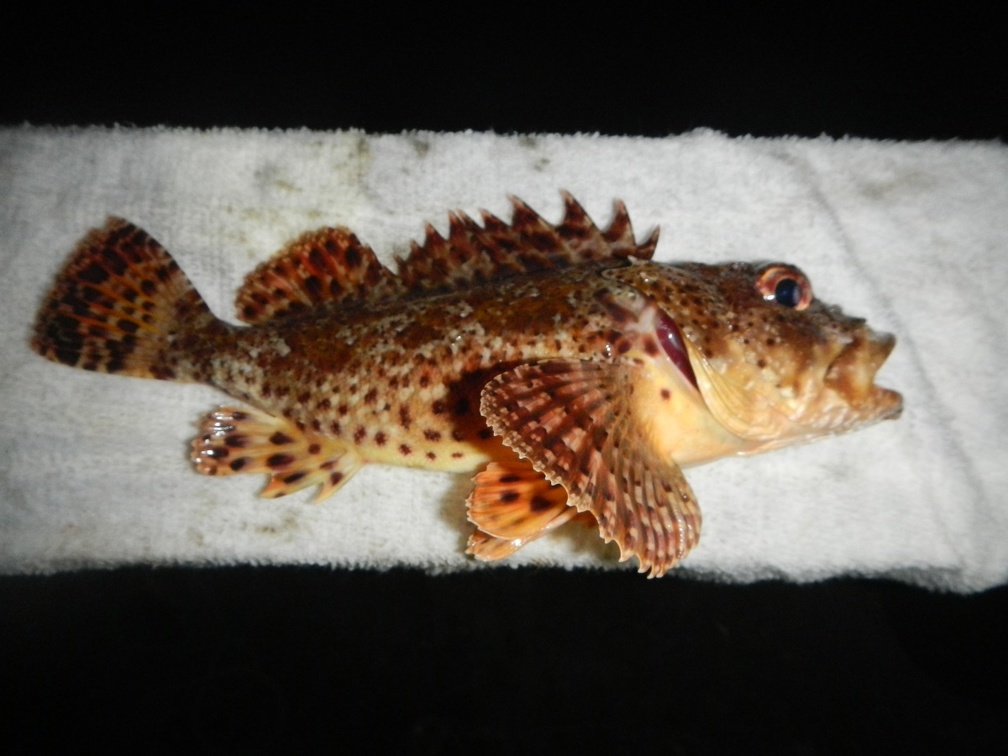 22-A boat with very powerful lights showed up to take visitors looking for flying fish.
I fished until midnight. The fish caught and released were Calico bass, sculpin and Salima.
On the way home, I ran in to some deer roaming around. By mistake it seems I have deleted their pictures.
Friday August 24, 2018
After a good night's rest, I went back to the Green Pleasure Pier once more. There too I caught untold number of calico bass.
I wanted Opaleye, but they were not responding to the peas. However, the bass was on the chew.
23-Harbor was full with boats anchored. Lots of people on the beach tanning with lots of kids in the water playing on the inflatable island.
24-One of the old members here showed up at the pier with friends. I did not want to take picture of their faces, in case they did not want
Around 3:00 PM, I moved to the Mole. Where I installed fishing regulations made of heavy duty laminates. Hope it will last longer than the thinner laminates I had posted before.
I was too tired to unpack, so I just setup one rod for bonito. After giving it the old college try and no hits, I packed everything and just socialized with other visitors waiting for the 7:30 PM Boat.
I always take the 7:30 PM boat on the return route. By the time I am on the freeway, it is about 9:30 or so. Traffic usually is flowing at freeway speed.
I rather be on the island than sitting in the 405 freeway traffic.
One more outing in the books. It was my son-in-law's first Catalina visit too. I think next time it will be easier to make them join me, since it seemed they all had a good time.
The kid will be older, and perhaps more willing to fish longer.
The End.
Next report, driving to do Kayak fishing in Bahia Asuncion, in Baja Sur. See Google Maps.
xxxxxxxxxxxxxxxxxxxxxxxxxxxxxxxxxxxxxxxxxxxxxxxxxxxxxxxxxxxxxxxxxxxxxxxxxxxxxxxxxxxxxxxxxxxxxxxxxx
I was not joking when I said the anchovies was the bait.
Look what I caught!
No it is not photoshoped. The new Harbor Master sent me this picture. I had been told about it, but I missed it when this picture was taken.