Whoo! Made it to Catalina island. Woke up at 5:35 and caught this image.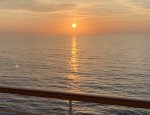 Took the earliest tender to the shore, wound up at the mole and bumped into egononbatizo at 8:30. Started off with a light rod for small fish, caught a small black smith which he then used for bait. The bite for small fish died down around the same time as peak low tide, and ego caught a few short sculpin and bass. Managed to catch a Halfmoon and threw that back on cut mackerel. We then proceeded to start losing gear, snagging the bottom, the kelp and morays, losing a few bottom rigs and my $10 krocidile. Ego caught a whitefish on squid and left for the gpp at around 12:00 because the bite for the big fish slowed down, and I kept fishing at the mole. Casting a dropper loop with squid, I proceeded to lose 2 rigs and then caught a legal and fat 14" calico and a legal (probably? Forgot to measure but it was fair sized)sculpin.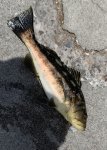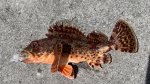 Threw them back because I couldn't bring any fish with me and ego wasn't there to take them. The bite died after that and I returned to the cruise ship at around 2:30.