Went with a fishing buddy to fish Cabrillo Mole in Catalina. As
EgoNonBaptizo
reported, the Kelp was back with avengeance resulting in lots of snags for our group. I have switched to 30lb Flourocarbon for my hi-lo rigs so I only lost two of those rigs on the day (both times snapped off just below the bottom hook).
I believe I set a personal best for species caught. I spent much of the day catching live bait and using the bait to try to catch a legal sized calico bass.
The species list was as follows: Calico Bass, Garibaldi, Rock Wrasse, Senorita, Kelp Perch, Scorpion Fish (2 varieties), Halfmoon, Blacksmith, Jack Smelt, Giant Kelp Fish, Sheephead, Ocean Whitefish, Salema

Two pretty specimens of familiar fish. Very red scorpion fish on the left and brightly colored salema on the right.
There was another unidentified fish that I caught. Had coloration similar to a blacksmith but it had a slimmer body and yellow on the fins. I did not get a picture of it. This was the second one of these fish that I have caught in the times I've fished at the Mole.
The sheephead bite was better than I can remember in the last few trips. Our sizeable group (nine anglers total) landed approximately 9 keeper sized Sheephead fishing hi-lo or dropper loop rigs with 2 ounce torpedo sinkers baited with market shrimp.
The closest I got to a keeper sized Calico was two 13" specimens that I caught off a small senorita wrasse I was using for bait. I dropped it on a carolina rig, just under the Mole and set the clicker on my baitrunner style reel. I don't always land the fish hooked this way so it was satisfying to land the two before they ran me into the kelp.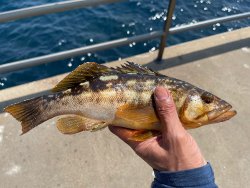 One of the better looking and larger calicos of the many I caught during the day.
I spent a lot of time trying to catch bait. Jack smelt were available but it was tricky to hook them without catching a garibaldi, halfmoon, blacksmith, senorita or tiny calico bass.
We saw a couple dramatic boils through out the day and I spent about 15-20 minutes throwing a 42g coltsniper but did not get any bites nor did I see any bonito caught. There was a guy fishing a splasher rig with a feather for a good portion of the day.
We took the 6:30AM boat and went home on the 9:45PM boat. The night bite with noticeably slower with just a handful of small scorpionfish. Long, enjoyable, and satisfying day.
Last edited: