Went to Catalina for the 2nd year in a row for the New Year's Eve Gala with my parents and girlfriend. We took the 2pm ferry on New Year's Eve, stored our fishing gear at Blue Line Luggage at the Mole and headed to our hotel to rest and get ready for the gala. The event was held in the beautiful casino ballroom (the largest circular ballroom in the world). Good food, beautiful venue, a sold out crowd, and an excellent band. We danced until just after midnight and headed back to the hotel to rest for 2 days for fishing.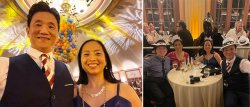 1/1/23 - Crazy Winds 25mph+
Interesting that there was almost no visible kelp by the Mole. I almost skipped fishing the Mole thinking that lack of kelp would have produced poorer fishing. Glad I decided to try it before making an incorrect assumption.
Crazy winds on the first day, canceling all the ferries on the day. It was challenging fishing in the wind. I bought a new long casting setup (Daiwa Emcast surf rod paired with a Shimano 4000 size baitrunner). My goal with this setup was to increase my confidence and effectiveness targeting bonito from shore. With the strong wind at my back, I was able to cast far and limited on bonito in 3 hours. The bite was steady if not wide open with a couple good size fish. The first was foul hooked around the collar and fought like crazy pulling drag multiple times before I landed it. Shared the Mole with Mahigeer for the first part of the day who showed his bonito catching prowess successfully landing more than a few fish including hooking one for his grandson to fight.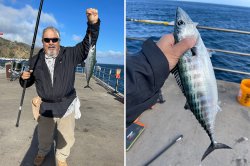 The rest of the time was spent bottom fishing mostly on a hi lo rig with market shrimp. I sized up my hooks on this trip switching between setups that had size 4 style Kahle hooks and size 1 and size 2 Kahle hooks. This eliminated the smaller reef fish catches and allowed me to focus on Sheephead. I limited on Sheephead (new limit 2 fish per angler, size still 12"+). The most interesting catch of the day was a fish that bit on a small Blacksmith perch used as live bait. The fish bit and quickly snagged my setup on something. After about 15 minutes of cat and mouse I was able to horse the fish out of the snag and landed a 14" Sheephead. Very surprising to catch a relatively small Sheephead on a decent size bait fish.
I fished the later half of the day with my Dad who limited on sheephead and caught calico bass, blue perch, and garibaldi bottom fishing.
Of course there were the usual by-catch suspects bottom fishing at the Mole (rock wrasse, senorita wrasses, short calico bass, black smith perch, blue perch and the dreaded garibaldi). We moved over by the crane later in the afternoon to escape the wind and found it more comfortable there.

1/2/23 - Excellent Sheephead Bite
Started fishing at about 10:45AM getting a late start after having breakfast with my parents before they took an early ferry home. The sheephead bite today was better that I remember in recent history. I attribute it to the fact that all the glass bottom boats were canceled the day before and were probably running very lightly if at all the previous rainy days. I fished with my girlfriend from 10:45AM - 3:30PM. Having a good amount of fish from the day before, we released most fish that we caught including quite a few barely legal Sheephead. I kept a 15" Sheephead and a couple white fish which started biting just as we were leaving casting out a little further from the Mole.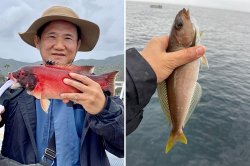 We were joined for a couple hours by some dance friends of ours who unbeknownst to us decided to attend the Gala after seeing our posts from last year on social media. I had a couple extra rods to they fished and had a great time catching white fish, sheephead, blue perch, blacksmith, and jack mackerel.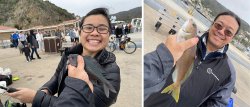 A very fun couple of days fishing and a memorable New Year's Eve Gala!
Made a chowder with one of the sheephead and gave the rest of the fish to my parents.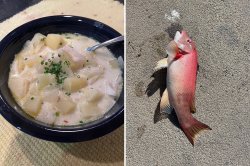 Happy New Year and wishing us all memorable fishing experiences in 2023!
Last edited: