I spent a day at Avalon this Friday. Weather was mostly good but with occasional winds and overcasts. A large tide with the low at 12:14pm with -0.6'. Mahigeer was there from the day before. I joined him at 7am and then fished till 5:30pm. The mole was not crazy crowded. Two others were casting for pelagic and a couple more fishing with swim baits and cut-squids.
By the time I arrived, a morning-bite was already slowing down. Mahigeer already had a couple of bonito at the time of my arrival. Two who came with the same ferry as me set up their sabiki rigs quick then landed a couple of schoolie bonitos while I took my time to set up my own gears.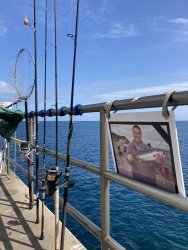 The man in the photo is G-dude whom I did not have an honor to fish with personally but I heard his stories from Mahigeer and Ken's book so I almost feel like I know him personally. I thank Mahigeer to bring him out with us.
As far as fishing goes, it was off and on. In a far range of about mid-low column depth, I found a school of macs that
@EgoNonBaptizo
reported a couple of weeks ago. So I made a quick series of hook ups on these nice fat ones to fill my cooler for making my better half happy. (She like Mac I prepare better than yellowtails and rockfish).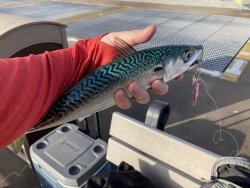 These Mac looked really nice. I had some last night in a simplest form of grilling it with salt. Was wonderful. After I saw the mac school gone, I switched my jig to target bonito while swapping three month worth life stories with Mahigeer. I had a couple of them. Then wind started to pick up. First southern then next northern winds. Others on the mole switched to bait fishing for whitefish. I decided to continue casting my metal jigs to see what I can do with them. I managed to land some spanish mackerel. On another jig, I had a small kelp bass after loosing a few larger specimens in kelp tangles.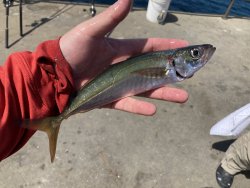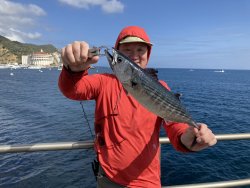 In a mid day the wind got stronger. We all were envious of Mahigeer's shelter.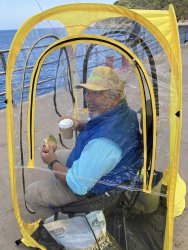 Towards the end of the day, I hooked on a large piece of free kelp in mid range mid depth, or so I thought. I listened my rod but felt no bonito dance at all. It was just heavy still weight on my rod I felt. A neighbor angler kept telling me it's fish but I did not believe him until I saw a nice bonito surfaced with a band of 20 or so similar size ones. I figured I did not feel it on my rod tip as that fish I hooked on was just coasting by with his friends like nothing happened even though I applied constant pressure. Got some help for landing and I managed to land a nice 25" one.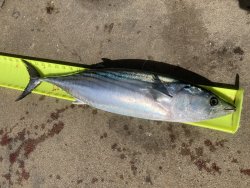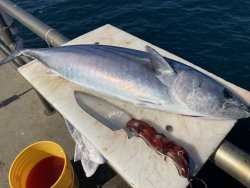 The knife is a custom bush crafting knife that my friend in Kansas City is designing and making. I was asked to test it for ocean fishing and cooking fish. It dressed the nice size bonito like a butter. And no rust either. Mahigeer helped me to record him cleaning his fish in video. Thanks Mahigeer san!
Another nice surprise was to find this 14" female sheephead on my metal jig. This is my second time I hooked on sheephead with metal jig here. I think the trick may be the jig's color. I want to explore more on this in future.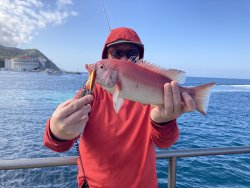 It's a Japanese pier fishing thing called "gomoku zuri", which means that you land five plus species of fish in an outing. I felt it was a nice gomoku success especially only using lures. Those who entertained me were Spanish mackerel, pacific chub mackerel, pacific bonito, kelp bass and California sheephead.
We ended our outing by recording ourselves with G-dude. Thank you for reading!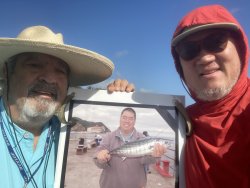 Last edited: