Wednesday 3/24: PFIC Meetup with Ken, Mahigeer, EgoNonBaptizo
Inspired by Ken's trip, we decided to rally a group of people to meet and fish with him at the Mole.
I was joined by my chiropractor, his wife, my friend Duke and a couple of his fishing buddies, and my girlfriend.
Like the two previous reports from the same day, the dominant species was Ocean white fish. If you could cast out far enough, white fish could be caught on almost every cast.
My chiropractor had a particularly good day landing 12 white fish in about 90 minutes of fishing. Twice, he doubled up on whitefish. He was using squid on a high lo rig with size 6 hooks. He baited the hooks differently, folding strips of squid and feeding the hook through multiple folds until the bait was almost in a ball. This produced easier hook sets than the more common way of baiting (just once through the end of the strip). He spent the rest of the day exploring the island with his wife and their young daughter. He may have fished more but his toddler aged daughter could not stay away from the railing at the Mole.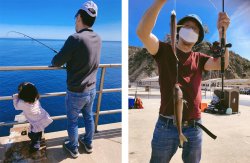 Duke and his friends had a good day, catching lots of white fish, and a handful of close to legal/legal sheephead. His buddies had the typical introduction to the challenge of fishing at the Mole snagging kelp many times in their first couple hours of fishing. To their credit, they learned how to avoid the kelp fairly quickly and it was smooth fishing from then on out.
I, too caught many white fish choosing to take home 7. I also caught my personal best sheephead (close to 19"). I really appreciate the fight that the larger sheephead give you. They have power, weight, shake their heads and swim laterally. Another interesting catch for me occurred later in the day. The wind was really picking up and blowing all of our lines to the right. My line had tangled with Duke's as he was reeling in a white fish. I chose to cut my line to make it easier to detangle but as I was trying to create slack in my line to make the cut, I felt a yank! I proceeded to cut my line and started hand lining in my rig. Sure enough, a decent sized fish was on and fighting me. It ended up being a 15" sheephead and was the only fish I had caught all day on a passive hook set.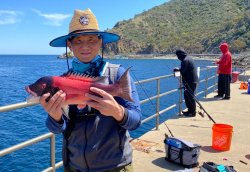 It was really a treat to share the pier with such experienced and skilled fishermen from PFIC. From Mahigeer's underwater camera work and hospitality, to EgoNonBaptizo's sharp eyes and sight fishing skill, to Ken's vast knowledge of the dynamics of the Mole through the seasons and the years, it was a day rich in learning for me! I was very grateful!
Sunday 3/28: Family Day at the Mole
Took my cousin and his wife to Catalina. It was their first time on the island.
It was a similar day to Wednesday with a dominant white fish bite. The difference was the weather was much better. It was warm with very little wind.
The last few trips to the Mole have seen very few fish caught unless they were caught on active hook sets. During our trips earlier in the year the fish would jump on the hooks yanking the rod down without active hook sets. You just needed to hold your rod tight and the fish would often hook itself. As time went on there were fewer and fewer fish caught this way. The last two trips there were almost no fish caught unless the angler felt the bite and actively raised the rod to set the hook. We are still experiencing almost constant bites, but the bites are less aggressive and without active hook sets the bait will be stolen in short amount of time. Shorter with softer baits like worms or shrimp but even squid will get stolen quite easily and quickly.
I think the only fish caught on the day without an active hookset was a good sized sculpin caught by my cousin's wife. She was the least experienced angler in our group (first time fishing) and this was the only fish she caught on the day. She was pleased that it was an exciting and different fish.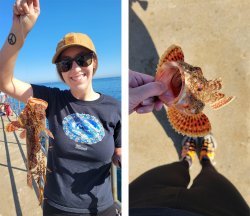 My cousin had more experience fishing, spending a decent time when he was younger catching rays on the Seal Beach pier. He had a good day, catching a number of white fish and doubling up a couple times on white fish and sculpin/small sheephead. He also doubled up on a garibaldi and a sea cucumber. The sea cucumber fell off the hook just before he got it over the rail, much to the disappointment of his wife who was enjoying seeing all the different species that were being caught that day.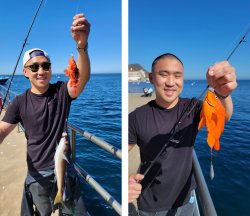 My girlfriend had a much better day than Wednesday, landing two keeper sized sheephead along with a mix of white fish. She also caught a couple tree fish which we saw for the first time when Ken showed us a small one that he caught on Wednesday.
I was enjoying catching lots of white fish and also had fun landing a small octopus. The octopus delighted my cousin's wife and drew a crowd of spectators from the ferry line before it was safely released.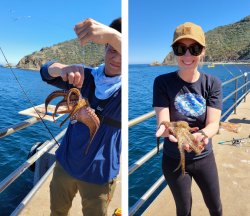 Made a Swedish Curry Soup with fish stock from the head and bones of the large sheephead I caught and fillets from one of the sheephead that my girlfriend caught.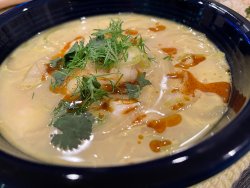 Last edited: