It was a mini PFIC get together with Mahigeer and EgoNonBaptizo today at Avalon. It was my first time fishing with EgoNonBaptizo. What an angler he is! I do not say any about Mahigeer. We all know about him too well
We made a nice team, helping each other, joking around, fishing together. Mahigeer brought the legacy of G-dude so we could fish with him. I had a joy of casting a few times with his rod Mahigeer brought with. He must have been watching over us. We got some early spring Bonito bites! EgoNonBaptizo had two really nice size ones. Mahigeer is always helping others first before he takes care of himself. He got back to his bonito blues for the good old time sake but I am sure he will change the tune as he and EgoNonBaptizo will stay overnights. (I came back home after a day of fishing). Very nice day without much wind. EgoNonBaptizo was killing it but I will leave those for his and Mahigeer's later reports! Here are some pics from me: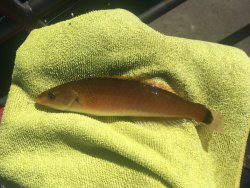 Good ol senorita came to say hi to me.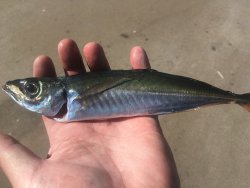 And this spanish mac came to my metal jig. It is one of my fav fish to eat. I know it is small. But it is a japanese thing.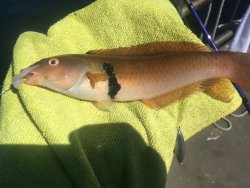 Rock wrasse always saves me from a skank, thank you.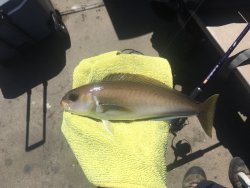 And whitefish that EgoNonBaptizo showed me how to catch!
Last edited: