Veterans day made a punch hole in this week's schedule and I observed a chance to fish. Earlier this week, I needed to turn down an invitation of my fishing friends to go Avalon for Bonita fishing last Sunday due to my work deadlines. They told me afternoon boils were hot. I also knew Mahigeer will be there doing his thing Tuesday-Wednesday. It seems a right thing to do is to wake up early and hop on the catamaran, which I did.
You see in Mahigeer's earlier report already but the weather was nice. The typical high afternoon wind was not there. Not too strong tide. Early AM was cloudy but then got all sun after that. Water was very clear showing the kelp beds clearly. We saw kelp growing better this year. No bait fish was to be seen in AM but they came in PM.
I cast metal jig whole day scanning different depth in turns. Every once in a while, I get hooked up about every hour or so with mid size bonita. I hooked two large specimens that day. One I lost to a tourism boat running over my line cutting it. Bad timing. I lost my leader and jig so I took it as a message from fishing god to pack it up. I booked my return trip leaving qt 4pm so I was getting ready to pack up already. Mid afternoon, we were already seeing birds started to gather off shore in multiple places. I mean big birds. I knew they were coming closer to us. But then when I was pretty much completed my packing the big boils started right in front of us. I quickly set it up and toss a jig to it. I hooked one immediately but this time I felt it is really big. Earlier, I was fishing with too loose drag so I made it much tighter. But even with such drag, I could not stop its initial dive to deep. The line to my ferry was already long and I knew they call to board any minutes. So I hasted. Mahigeer came to support and taking picture of me (thanks!). Long story short, I lost it. It got into kelp and manage to cut my line. The way it behaved, I think it was a good size yellowtail. I had landed 35" yellowtail there before. I felt it was the same or even larger. This will be one of those lost fish that gets bigger and bigger as time goes on. Only cure is to go back there and land another one. Let's see.
When I finally got in the ferry while the boils still going on, I was approached by many passenger as they witnessed me fighting the fish. They thought I was fighting a shark. One of them took a picture of me and airdropped it to me. Here: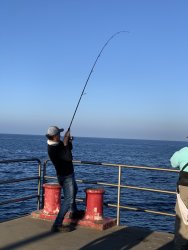 I wish I could have shared how this fish looked like.... But oh well, next time....
Last edited: