A friend of mine and I visited Avalon yesterday fished at Cabrilo Mole from 7am to 8pm. I went to the same kindergarten with this friend of mine in Japan and our respective lives took both us in this south land independently. We have been great fishing pals since we chance-met each other 10 years ago.
We had a nice tide of 10 am high and 5pm low. Weather was strange shifting from bone chilly to balmy hot in a matter of seconds. Water temp appears lower than I imagined. Winds are normal Avalon winds but we had a good spell of no winds in early AM and late PM.
Lots of visitors for the Jazz festival, making a good cheerful gallery. We fish with quite a few anglers. Some opaleye hunters at both corners of the mole. And short-stint bonito/calico hunters and some bait fishers came and went. One guy who was doing hand-lining was landing good assortments including a keeper sculpin that I helped unhook. No bait fish visible in the day time. No smelts we saw.
As for us: we tossed metal jig hard whole day with some bait fishing when we get tired. Bonita action was sporadic but there. My friend hook-set 5 and landed 3. I have hook-set 8 farmed 2 and landed 5, reaching my limit. One of my landeds was 23 inch long, which gave me a nice fight. A local worker told me that there was a huge boil all over the area in front of the mole in the mid afternoon a day before. He was not fishing then but he was sure it was bonito. Yesterday, we did not see a single boil. We were lucky twice to have our jigs swimming when a school hit. Other than that, it was all sporadic thing once an hour.
When we put some baits, regular variety of fish at the mole showed up. I found millions little cailcos, baby sheephead, baby sculpin, and garibaldi. My friend landed a moray eel after dark and one sea urchin hooked itself on his squid bait, the first I ever seen sea urchin fished that way.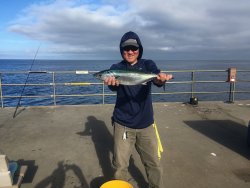 More photos below.
Last edited: