As
@EgoNonBaptizo
put, this is yet another report of fishing at Avalon you have seen enough of. After a couple months of no fun and too much work and duties, I finally found some time this week to spend for myself. I chose to spend it at Avalon. My last fishing of 2022 was at the mole so it is fitting to have my first one for 2023 there as well. There were a couple of report-worthy events I had there so here it goes.
It was a few days after a new moon with clear sky and high Santa Ana wind warning above 20mph. High tide was at 9:48am with -2 minus tide after 5pm. This matched with my regular day trip leaving Long Beach by a 6am ferry. Coming back, the winter schedule offered a less choice so I took 4pm return. Ferry schedule and tide matches fine but why do I choose a day with a high wind advisory? I had a couple of reasons. First, the mole has been packed with anglers lately and I wanted to avoid them. I thought they would pass on braving to go out in this condition. Second, I wanted to test a theory that rougher water gives better fish bites. Water motion in the sea scape would loosen little creature attracting little fish which in turn attract larger fish that prey on them. Hard to go out on small boats in such conditions but the mole would stand.
First thing I noticed when I arrived at Catalina express landing in Long Beach was that they are renovating their office and lobby.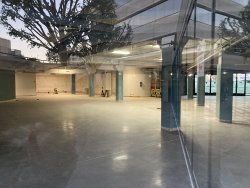 They opened a new temporary office on the right hand side so boarding protocol remains pretty much same. The new location also has a bathroom.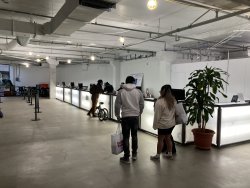 The ocean was rougher than usual but the large catamaran had no issue with it and we arrived at Avalon without delay. The mole was not crowded. In fact I was the only angler there when I got there. A well come change! So I thought. But then I found the reason why they aren't there. Swell. Probably it was highest tide I saw at the mole letting splash of waves exploding in the middle of the entire thing.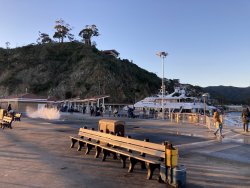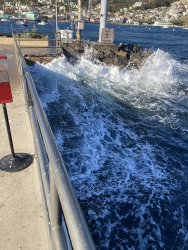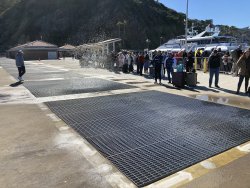 It was quite a show! Swell was pretty high. I felt I could touch water looking down from the rail but after careful inspection, I deemed both the water splashes and high swells are safe enough. And despite the high wind warning, it was pretty manageable fishing wise so I decided to stay owning the entire mole to myself.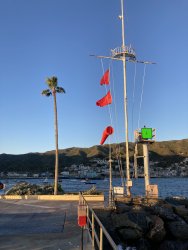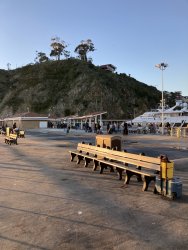 Wind was against but not too strong throughout the day and there was a few pockets of no winds. Temp was low 60s with clear winter sun. I fished my rotation of metal jigs between 30-50grams on 30lb braids with an arm of fluorocarbon 30lb leader. Tackle was my trusty JDM 10 feet shorejigging MH rod with 4000cxh Daiwa reel. The first cast with gold-red color gave an immediate hook up with a schoolie bonito. But it died down and went on slow sporadic bites.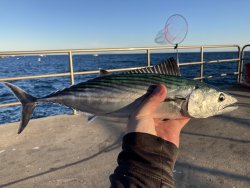 Water surface was rough and no tourist boats around feeling quite empty there except a few sea lions scouting around. Another angler showed up around 9 and we fish and chat together for a while. His brother lives in the island so he has access to a golf cart. After not getting bites he decided to leave and invited me to join him on fishing on rocks by the quarry. Very nice invitation! But my bites were alright so I decided to stay. Back to being alone, I managed a limit of schoolies by 11. I tried a dropper rig on bottom with a few shrimp I brought with. No takers on them.
After lunch, some life duty caught up on me and I ended up on phone for a while. By the time I ended a call, it was 2pm. I thought I tried a few more cast then call it a day. Since I had already reached my limit, I tuned my jig with a bit heavier one with larger hooks then started to fish deeper in column with multiple drops. Don't recall exactly but it was a few cast after starting with the new jig. A heavy thud that almost took my rod away from my hand came and my body immediately reacted setting the hooks. Rod was bent deep and drag of my reel screamed. Fight was not too long thanks to less kelp around and lucky hookset on the side of mouth. But I realized it was too heavy to bounce it up. There was no one on the mole. Not even a tourist or a worker. The fish brought me to the other side of the mole section and my net (thanks god I brought it with me) was at the other. I needed to carefully guide the fish hoping my leader won't break and sea lion does not notice. My luck was with me then. I managed to land this 26" pacific bonito.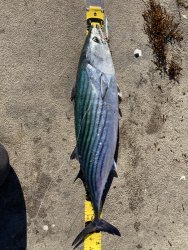 After catching my breathe, finally a couple showed up so I could ask a photo taking.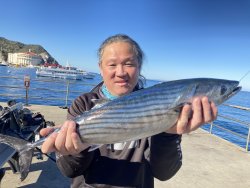 I learned from this outing that persistence can pay up sometimes. The total landed was 6 bonito and 1 Spanish mackerel. What made me feel real good was that I did not lose any hook ups. 7 fish hooked and 7 landed. What made me want to learn more is bait fishing. May be next outing, I will focus on it before barracuda comes back…
Last edited: