UPDATE:
After reviewing my GoPro footage final fish count by species was:
21 Sheephead
9 Calico Bass
6 Ocean White Fish
3 Senorita Wrasses
1 Blue Perch
--------------
40 Fish total
Went back to Catalina on Sunday 2/14. Did not decide to actually go until the evening the previous night and the website for the Catalina Express out of Long Beach would not sell me tickets for the 7:05AM ferry to Avalon and the 6:30PM ferry back from Avalon due to "limited availability."
Decided to try my luck anyways and walked up to the ticket counter without a reservation. I bought a standby ticket for the 7:05AM and was allowed on. They would not sell me a ticket for the 6:30PM return ferry at Long Beach but they said I could try to stand by on the 6:30PM and instead sold me a ticket for the 2:05PM returning boat. When I got to the Mole, I went straight to the ticket office there and they were able to get a me a confirmed ticket for the 6:30PM with a $5 change fee. Don't recommend try to go without a reservation but just letting you know what happens when you don't have one and try to go anyways.
The bite was slower today than any of the previous trips. On previous trips I would drop a high lo baited with blood worm and shrimp down to the bottom and almost immediately, there would be 2-3 assertive bites followed by one that was committed enough to set the hook. Today there was often 30 seconds to a minute of nothing followed by less assertive nibbling bites that would never commit and then you would reel up with empty hooks. I still caught an estimate of around 35 fish including two 15" sheephead but the size of the fish that I caught overall and the number was down.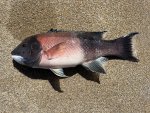 I saw four people throwing stick baits for bonito. Three of them fished for a couple hours, the other one all day. No fish for anyone. It was a very windy day on the Mole so throwing lures for bonito would not have been my choice in that wind. Every single piece of equipment needed to be shored down to keep it from being affected by the wind.
Once again sheephead were my dominant catch. I think I caught around 15 sheephead with five being keeper sized. I actually only kept four because one was right at 12" so I threw it back. What really changed the character of the day was the ocean white fish bite that started around 3:30PM. Once the white fish arrived the pace and rhythm of the fishing picked up and I was catching more fish and bigger fish. After that bite started I caught a 13" kelp bass, another 15" sheephead, a 14" catalina blue perch and around 8 ocean white fish.
It was fun catching one 15" sheephead with a full line of people waiting to board a boat around 5:15. People were very interested in the fishing and asked all kinds of questions. I also was able to let a young lady who has been thinking about learning how to fish hold a pole and feel some bites and hook a fish. Unfortunately the fish ran her into the kelp and she had to leave to board the boat before she was able to reel the fish in.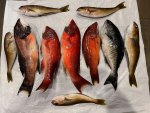 Last edited: