Stayed at Avalon for two days and a night to do some fishing.
After getting off the ferry, I started off fishing the Mole with a 42 g green coltsniper, the first fish I caught was a greedy calico bass. I then hooked a much better fish (likely a bass), that took me into the kelp and broke me off.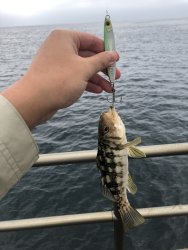 I put on a new blue and magenta coltsniper, and around 8:30 am, caught a decent sized bonito. After about an hour of no bites fishing only the jig, I switched to the splasher-fly rig and after a couple casts, had a missed strike. A couple casts later, I hooked and landed another bonito. A steady bonito bite continued until about 11:30, when the sun came out and I had limited out.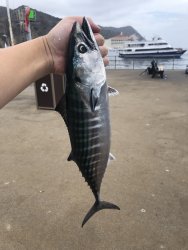 After two fishless hours, I moved to the GPP. Immediately I noticed there were no opaleye around the pilings, only the usual horde of short calico. After catching and releasing too many shorts, I headed to Seacrest Inn and checked in. After sleeping a bit, I went back out to the Mole at 6:30 pm and began fishing lures again. After a couple short strikes on the 42 gram, I switched to a 28 gram jig and immediately began hooking about a million short barracuda. This continued up until around 8:30, when it was completely dark. I fished the Mole until about 10, and after catching nothing, headed in.
I woke up at 5 am the next morning and headed down to the Mole. I started off with the 28 g coltsniper and around 6, caught my first of many more short barracuda, which were boiling on the micro bait huddled around the Mole. Around 9 am, the bait dispersed, as did the fish. I then saw a singular boil in the distance, and cast out to it. My jig was picked up almost immediately, and the fish went on a screaming run, nearly spooling me, then ran back to the pier, buried itself in the kelp and broke me off. Reflecting on it, I feel sick to my stomach; that could have been a yellowtail. I switched back to the 42 g coltsniper and continued to fish, catching two bones and a couple scattered short barracuda, before the wind picked up around 12, and I took a break. I started fishing again around 2pm, but this time for some of the larger baitfish I had seen around the pilings, I caught a couple smelt, which I dropped down by the pilings, and a swallow damsel.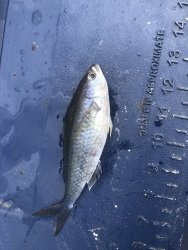 I didn't catch anything on live bait, but around 4 pm, the micro bait showed up close to the pier again, and I began fishing the 42 gram jig. At first the fish were sporadic, with only a couple cuda here and there, but at 5, the bite went off. I was again catching fish after fish, and after a while, I switched over to a krocodile to try and get a bigger fish on the larger profile lure. I quickly caught two legals, and got a lot of short bites. I lent out more of my jigs to some people fishing nearby, and they were able to catch some fish of their own. I took the 7:30 pm boat back home.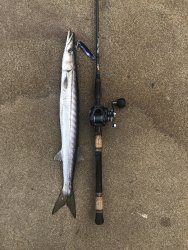 I think this picture of the 42 gram coltsniper best sums up the fishing over the past two days: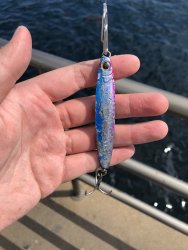 It was an interesting experience fishing predominantly with artificials, but it certainly paid off.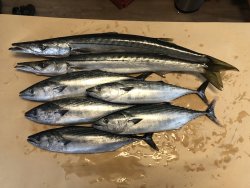 Last edited: