Late post:
To celebrate my 21st, I rented out a vacation home in Avalon with a couple friends. Naturally, we did a lot of fishing.
Day 1:
I took the 6 am ferry well before any of my friends, who would take the 9:50 ferry. I started off fishing the 42 gram coltsniper, and quickly caught a ~14" bonito.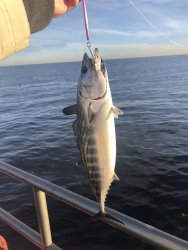 I took this as a good sign, which seemed to be confirmed by a short calico jumping on the lure shortly afterwards.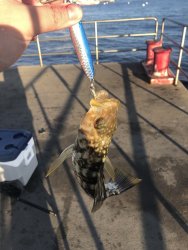 Fishing then slowed significantly, with only one slightly larger bonito jumping on at around 8 am, with the wind making casts difficult. Some other anglers fishing two to three hook sabikis had better luck. At 9, I got a soft take on the drop, which quickly turned into a set of worryingly long runs that nearly emptied my baitcaster. I eventually turned the fish and horsed it through the kelp, which turned out to be a 23" bonito.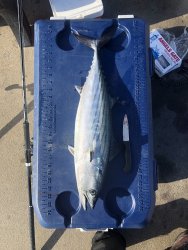 I then got no further bites on the jig, so I switched to cut bait and killed time catching small calico until my friends showed up. After checking into the vacation home, I cleaned the fish, had a quick lunch and went back out with my friends to the GPP at 2 pm.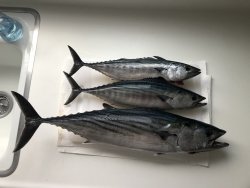 We fished mainly reverse dropper loops with pieces of market shrimp or squid. Several of them had never fished before, so I had an 'experience" teaching them how to underhand cast and land fish. I was too busy to take pictures, but we ended that evening at around 6 with five decent whitefish and two keeper sheephead, which became dinner, and with some miscellaneous bycatch like a few small calico, rock wrasses, and a round ray.
Day 2:
I woke up very late around 10 am (not for any alcohol related reasons!). At 1, we headed out to the Mole to give everyone their first experience with the Orange Horde of garibaldi. The group (unsurprisingly) caught at least one garibaldi on float rigs each along with quite a few blacksmith, with a "bonus" moray mixed in on a dropper loop with cut sardine.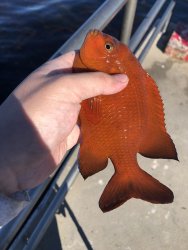 We returned to the GPP at 3 pm and fished the same rig as the day before. One of my friends was an absolute sheephead magnet, and caught four legals in rapid succession, with one at 16". I caught one 14" fish, while the other group members caught rock wrasses and small whitefish.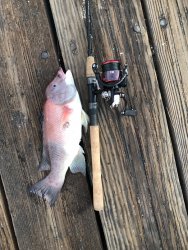 We called it in by 5, had dinner, and they left for the mainland on the 8:30 ferry.
Day 3:
After cleaning up the absolute trainwreck left behind by the others, I went out onto the Mole at 6 am and started off fishing the coltsniper. I caught a short calico fairly quickly, then not long after, caught another 23" bonito and about 20 pounds of kelp.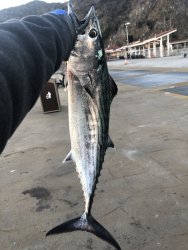 Fishing slowed considerably afterwards, with only one more 18" bonito jumping on the coltsniper. I cast the jig well into the afternoon, for no luck. I was kept company by a pelican, who showed great interest in me after I switched to float fishing peas. I only caught more blacksmith, small calico, and halfmoon, with no opaleye in sight.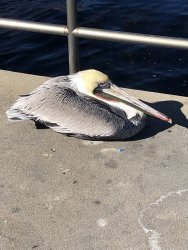 At 4, I tried fishing the jig for another hour, for no takers except for another short calico. I then switched to a dropper loop with squid and killed time catching whitefish after whitefish from the northern corner until I took the 7:30 ferry home.