Two reports for the price of one!
I finally came back to SoCal after a brutal finals season paired with illness; what better way to destress than fishing at Avalon?
12/13
This time around, I would be joined by a friend from UC Davis that I had done some fieldwork with; this would be his first time fishing at Catalina.
After taking the 6 am ferry, we started off at the Mole (naturally), and we were joined by the same regulars from the last time I was in Avalon. We managed to beat them out to the corner and secured ourselves a pretty good spot. We started off bonito fishing with 40 gram jigs, and pretty quickly began hooking up on fish. The bite was hot for about an hour, before the wind picked up and made it hard to cast without crossing the others' lines. The bonito weren't huge, maybe 15"-17" at most, but it was a great start to the morning. We kept a one-person limit and released the rest, in case some better size fish came through the next day.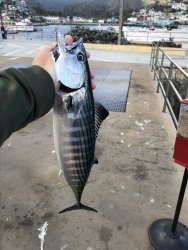 One of many medium-sized bonito.
We then switched to bottom fishing for ocean whitefish with dropper loops and squid. There was a slow but steady bite, and my friend got some better size models, while I caught a couple smaller ones, a 13" sheephead, and a kelp rockfish.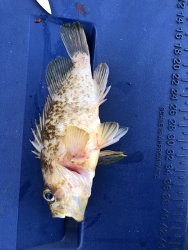 Small kelp rockfish.
Every now and then the bonito fishers hooked up, and whenever that happened, we usually cast out at the same time just to mix up the action. Around noon, I hooked into something heavy, but wasn't fighting terribly hard. When I got the fish to the pier, it turned out to be two bonito on the same jig, each hooked on one of the two assist hooks.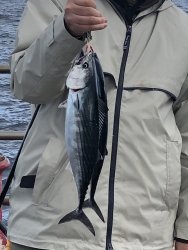 Double bonito.
Around 2 pm, we decided to move to the GPP and also check into our hotel. Looking down, there were a lot of opaleye, and more notably, sheephead in the area. There were so many sheephead, in fact, that they outnumbered the opaleye. Surely we were about to have a great afternoon of fishing. I could not have been more wrong. The sheephead completely turned their noses up at any bait other than peas, and refused to bite on any line heavier than 10 lb fluoro. The one time I did hook a sheephead on shrimp, it was a 20+" fish that completely overwhelmed the 10 lb spinning setup I was using. I scraped out one more 12" fish, but was otherwise soundly humbled by these fish. However, there were a lot of sardines and jack mackerel in the water, and I made a point of catching a few and saving them for cut bait (totally not foreshadowing). We headed at 6 pm as the sun set and it got bitterly cold.
12/14
We headed out at 5 am to capitalize on the morning bonito bite. Just as the sun started coming up, they started biting furiously on 40 gram jigs. At this point, we already had some fish in the cooler, so we focused on the larger 16+" fish, releasing everything smaller. That was probably a mistake, as the sea lion quickly took notice, and we lost three fish and jigs to the sea dog. At 7 am, one angler from the mainland joined us, and now the sea lion's attention was more spread out. I caught one more 16" fish to fill out our two-person limit. We tried a little bit of bottom fishing afterwards, but all we caught was a garibaldi.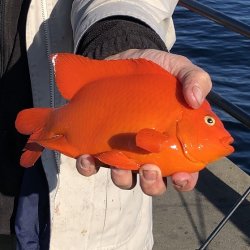 The terrible beast looms.
We headed back to the GPP by 10 am: we were going to catch sheephead or die trying. The first thing I saw, other than the ungodly number of sheephead on the bottom, was a comb jelly (likely
Beroe spp.
)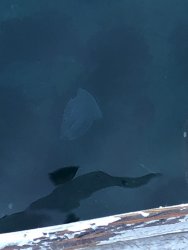 This has nothing to do with the fishing, I just think this was a cool sighting.
The sheephead were so wary that I was significantly more likely to catch opaleye on 10 lb line and size 8 hooks, significantly heavier than the usual 4 lb fluoro and size 10 hooks I usually use, and we did indeed catch quite a few opaleye as bycatch, despite being significantly outnumbered by sheephead. At the same time, whenever we did hook up on sheephead, we would often get totally overwhelmed by the size of the fish on our light tackle, and took heavy losses to the pilings and moorings. After a lot of coaxing and heavy chumming with peas, I managed to pick off a 14" fish on flylined peas at noon. In the meantime, I had also cast out a chunk of sardine on a reverse dropper loop. An hour after that first sheephead, that rod went down hard, and I wrestled a 16" fish to the pier.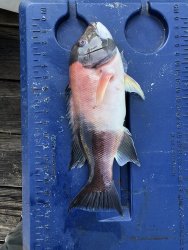 Victory.
Afterwards, we continued to lose sheephead and catch opaleye until 2 pm, when my friend managed to wrestle a 13" fish out from under the pier. However, our 3:55 pm departure was looming ahead. Just as we were about to leave the GPP at 3, the rod with cut sardine got a bite on it, which happened to be a small calico.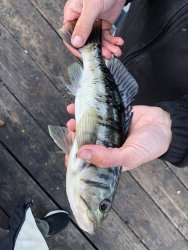 Last fish of the trip.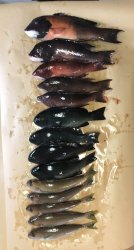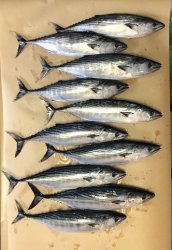 In total, we took home 10 bonito, 5 sheephead (if you're reading this from the future, this is before the 2-fish limit), 4 opaleye (with many more released), and 5 better size whitefish.
Next post in the thread will be the 12/20-21 trip.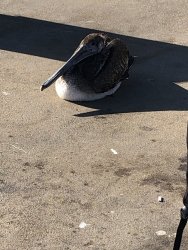 Addendum: there was also this juvenile pelican that would try to steal fish, and at one point it bit me pretty hard while I was putting a fish in the cooler.
Last edited: