I made a last minute decision to hop on the ferry with a friend to do some fishing. We took the earliest ferry (7 am) to the island, and started fishing the GPP, where we would stay for the rest of the day.
Cabrillo Mole Construction: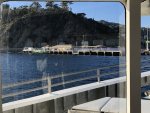 The floating dock at the end was gone, freeing up a substantial amount of space. The end was already crowded, but it didn't appear that anyone else had caught anything, minus one angler who had caught a bonito on a jerkbait. I started off fishing the same, while my friend fished shrimp on a sliding sinker rig. I had several hits and pulled hooks on the jerkbait, while my friend caught a 12" sheephead (released because it was too close) and a decently sized whitefish. After a while, the bonito dispersed, and fishing slowed considerably, with periodic schools of baitfish passing by too quickly to catch. Around noon, disaster struck. I left a light spinning setup on the rail momentarily to help my friend unhook a fish, only for the current to take the rig into the props of the docked semi-submersible, leading the rod to be pulled clear over the railing and into the props, where it was chopped into mincemeat (evidenced by bits of cork and blank floating to the surface). No damage was done to the boat, but that was $250 down the drain. I had no choice but to continue fishing to make the best of the day, but around this time, conditions began to turn around. Large groups of opaleye came out from under the pier and bit on flylined peas with reckless abandon, and I hooked several in rapid succession, landing three due to the pilings. Fishing then slowed again until about 2:30, when the opaleye began biting again, and I was able to catch some more, while my friend managed two and a 13" sheephead, only falling short of a one-person limit of opaleye again due to the pilings. Around 4, I saw a baitfish skimming the water's surface, and I tied on a splasher out of boredom. On the first cast, a bonito jumped on.
Harbor Bonito: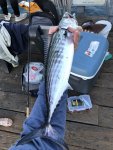 This action continued until around 5, I landed five (15"-18"), with multiple near-misses and lost fish, and my friend got one. Afterwards, action slowed, with only a few small sheephead and calico in the mix until we took the 6:30 boat home.
Combined haul: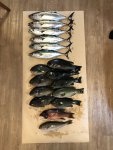 Last edited: