Slow fishing, so this report will be fairly short:
I went back home for Thanksgiving break, and went to Avalon on Saturday. I took the 6 am ferry to the island. I started off fishing the splasher rig for about half an hour, with no takers, not even followers. I switched over to a float rig for opaleye. The first fish of the day was a short calico.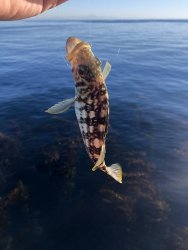 The second fish of the day was a small halfmoon.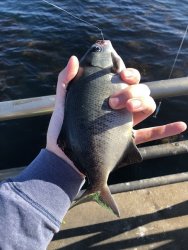 The opaleye were deep in the regrown kelp, and refused to come out even for chummed peas. After about an hour of frustration, the wind picked up, preventing me from fishing the light pea rig. I switched to a dropper loop with cut sardines, and casted just past the kelp line, while throwing a 42 gram coltsniper as best I could against the wind. No takers on the jig, but I ended up hooking a moray eel on the dropper loop, which was an "interesting" experience unhooking to say the very least.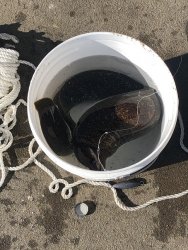 After a couple more hours of frustrating fishing, I moved to the GPP at 1 pm, and tried opaleye fishing. I caught three in fairly rapid succession, then saw some decently sized sheephead milling around the bottom. Long story short, I didn't catch them; the sheephead were incredibly spooky, and wouldn't touch any of my baits, even on 6lb fluoro. At least this night heron kept me company: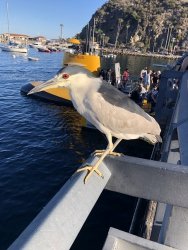 I gave up at 3:30 and headed back to the Mole. I fished a dropper loop with strips of squid, since the opaleye still didn't want to come out of the kelp. I got into a decent bite on small whitefish, with one standout fish in the mix.
At around 4:30, I gave the bonito one last try, throwing the splasher until the sun went down at around 5. No takers.
I fished bait for a couple more hours for no takers. I took the 6:30 pm boat home.