-Headed out today about 3pm because the conditions looked right, rain.
-Left right before 3 hitting a little traffic and was fishing by 3:30. Fished about an hour and got a 52" inch, fork-length white sturgeon.
-One guy exclaims, "You've been here 30 minutes."
I thought about Brian Linebarger as I baited up lamprey eel on a 9/0 diamond cut Owner (bought at Kmart $3/3hooks) and hurled an eight ounce pyramid into the depths. I remember when we fished there on a derby and he said, " It's already deep. You don't have to cast far!"
-So, I casted out my trusty Penn 525 with 300 yards of 50# Power Pro and set my Shimano Trevala jig rod in the holder with a red bell on it. I just went on about cutting some bait, conversing with some other guys and setting up a shrimp trap. I mentioned to one familiar guy that "If you get a sturgeon, you can have sturgeon for Thanksgiving!" jokingly.
-Not too long after 3 or 4 guys say, "Hey your rod is bending over in the corner!" as I then hear it and hurry over. I picked it up, still pumping, and give a decent upward tug and feel tension. I crank down the 6:1 with HT-100 and pursue battle. A little slack is felt and the fish breaks the surface 40 yards out will a tail dance to shake the hook. I thought maybe she was successful but she wasn't?
-A 20 minute battle followed and I left the star drag right where it was not adjusting an inch. I let the fish run out when it wanted and took in line when I could until it finally acquiesced!
-A slot fish at 52" which I quickly attached tag 01 for 2018!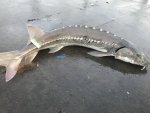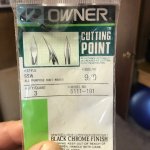 Last edited: