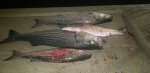 Me and my friend went fishing to one of the east delta piers yesterday night. We used frozen bait, 6/0 - 7/0 hooks with 2 sets of rods 2 heavy (65lb braid line) and 2 light with 30lb line.
A lot of baby stripers, we went through about 6 bait bags...
One large fish unbuttoned (either big striper or decent sturgeon) - it was before we've got 1st keeper...
2 keepers are in 30 inches range.
All keepers were caught on slack and incoming tide