Got my Metallic Emerald Green Abu Pro Rocket in the mail yesterday.......I have been wanting one for YEARS.........Will Post reviews as I start the basic tear down for lubrication, fill it with line, and start to use it.........My Present Fantasy regarding these reels is to eventually have one of each Green, Purple, Yellow, Copper (the colors I like) paired to a custom built color schemed rod........I will be giving away a lot of gear this Christmas to people that need it.
My first critique is very simple.....I can't imagine why Abu Garcia Does NOT INCLUDE A MANUAL, BASIC INSTRUCTIONS, or a SCHEMATIC with a reel in this price point. Furthermore.....Their WEBSITE does not have any that are specific to this reel series......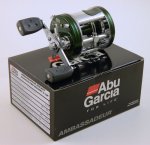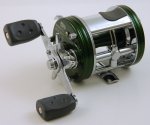 Whatever happened to ALANTANI?????
I spooled the reel with 15# Stren Hi-Impact Flourescent Green line and gave it a basic oiling with the provided Abu Garcia Oil......Some of the OLD TIMERS on this board will remember Ron of Ron's Reel Repair.....He recommended ATF for lubing baitcasting reels as it is basically Quantum Hot Sauce without the price tag........Hope to get this reel out for some test casting on a Tica 10" Salmon/Steelhead Rod this weekend......
Last edited: