Another Trip South — Last week I headed down to San Diego to begin the YouTube experiment — and to do some pier fishing!
Day One, Thursday
, saw me traveling the old familiar route from Fresno down Hwy 99 (Golden State Highway) to just north of Wheeler Ridge where the Hwy 99 meets I-5. Up the Grapevine, then past Fort Tejon, and eventually Pyramid Lake before dropping down into Castiac and the (somewhat) start of the journey through Los Angeles and what seems like a billion and one cars. For once it was pretty smooth sailing through LA and Orange County.
I stopped at Hogan's Bait and Tackle in Dana Point (34320 Pacific Coast Highway) for some lugworms and salted anchovies before heading down to Oceanside. There was a lot of talk with customers about the oil spill, specifically that all the people who had set out their lobster traps were supposed to bring them in unless they were south of Dana Point. Fishing in the harbor was somehow still open in a couple of spots but the small pier was closed. I asked if the San Clemente Pier was still open and they said so far.
Next up was Oceanside. There I made a short visit to the Small Craft Harbor to view its small and now closed (for reconstruction) pier. An ironic sign about fishing sits by the pier. Next up was a quick visit to Pappy's Liquor (601 N. Cleveland) to see if they had some bloodworms but they were out.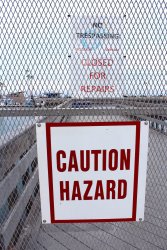 I needed to make one final stop before San Diego. In Carlsbad, I shared some fish talk over a cup of coffee with friend and Oceanside Pier reporter Bill Litchfield, and then visited with my son for a while before heading on down to San Diego. I still had a few hours of sunlight and could have gone fishing but instead simply checked into my motel.
Day Two, Friday, saw me visit a few piers.
Shelter Island Pier
— The day was a little damp and drizzly at times which probably accounted for the fairly small crowd at the pier. I started out by walking around the pier checking out the buckets and asking how the fishing was. Given my pier cart, which I think lends a certain amount of credibility as far as knowledge; I was able to talk angler to angler. I mentioned the web site to several people and hopefully made several new friends and PFIC viewers.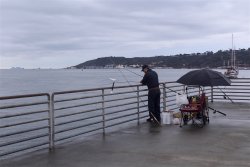 Shelter Island and a mackerel fisherman​
Two little old (not old) ladies were special. They weren't having much luck so I offered up a couple of subtle suggestions and mentioned PFIC. One said "you know a lot about fishing" and I said, "well, I am old and have a lot of experience." She says "KEN, you're not old, we are all just rejuvenated teenagers." We laughed a lot and had a good time.
Another group was two families from Utah who were teaching three youngsters how to fish. The kids held the rods while the adults offered encouragement. Nice talks with them and they left as newly appointed pier rats.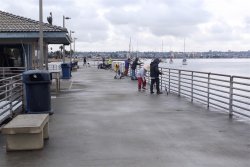 I finally decided to fish! Most people were fishing for mackerel and most were fishing cut strips of squid with a single hook under a float or using Sabikis. But, the action was slow, just a mackerel now and then and I didn't want mackerel.
I started off fishing a high/low baited with lug worms by the float at the right end of the pier. Forty minutes of fishing produced ten kelp bass, none of legal size (although there have to be some bigger ones there). Given that the tide was high, I then moved inshore and used the same light tackle rig to fish by the rocks. In an hour and twenty minutes I managed three mid-size opaleye and two little and still unidentified sculpin (waiting for an ID from Milton Love at the UCSB Love Lab). I also set up the medium rod mid-pier where the eelgrass beds are located (usually a good area for some sargo, bass and other species) but did not receive a single bite.
Result: 2 hours fishing —
10 Kelp Bass
3 Opaleye
2 Unidentified Sculpin
The next destination was the Ferry Landing Pier in Coronado. Along the way I made a quick stop at Squidco (3518 Barnett Ave.) where I picked up some bloodworms, ghost shrimp, and squid, and then headed to Coronado.
Ferry Landing Pier
, Coronado — The sun had finally made a welcomed appearance but I would find an almost empty pier and a strong outgoing current that would make fishing a little tough.
However, even before I was able to set up my rods, I noticed an angler was fighting a fish at the end of the small pier. I walked over and watched it being netted and it was an uncommon Banded Guitarfish, a species I have never caught. I talked with the angler, Cody Goodwin for a few minutes and it turned he had caught it using a live smelt for bait. He was a semi-regular angler at the pier (once a regular but now living inland). He told me stories of many fish at the pier and shared a picture of a six-foot-long, 72-pound soupfin shark he had caught two weeks previously at the pier.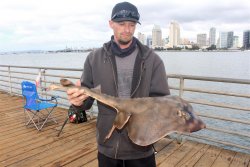 I finally started to fish and first tried under and around the floating landing using bloodworms and the high/low. Kelp bass are often found under the landing and a cast that drops your bait right at the edge can produce bass. Not this time, no bites and a current going right to left (outgoing) that made it very hard to hold the bottom near the landing using my light tackle. After absolutely zero luck, not even a nibble, I decided to try the ghost shrimp, one rod fishing the waters inshore of the pier and the other casting out from the pier. Again the action was very slow so I tried some cut mackerel and cut squid. After only a few fish, I decided to make it a short visit.
Results: 1.75 Hours fishing
2 Round Stingray (almost every trip to this pier sees round stingrays, in fact an average of 1.08 round stingrays per trip).
1 Pacific Mackerel
I decided on one more visit, to the Embarcadero Marina Pier.
Embarcadero Marina Pier
— The pier was fairly deserted when I arrived (about eight people), typically a bad sign, and I would find the same strong current I had seen at the Ferry Landing Pier. Considering that the piers site almost exactly opposite each other, the Ferry Landing on the west side of the bay, and the Embarcadero pier sits on the east side, the current could have been predicted.
Nevertheless, I set up shop with two rods, both using high/lows with a variety of baits—worms, ghost shrimp, salted anchovies, and squid. Again the fishing was very slow, only two fish, although that was two more than the other anglers on the pier combined.
The main entertainment wasn't the fishing but the technicians setting up for a concert at the adjacent and really beautiful "Randy Shell" that sits next to the Embarcadero Marina Park South. A gorgeous place for outdoor concerts and home to the San Diego Symphony, and a concert was happening that night. Next to the parking lot a hoard of workers were waiting for people to show up while technicians kept doing sound checks on various speakers (I guess). I did not want to stay for the crowd that would be showing up but I was thinking how cool to be fishing while listening to an adjacent concert just next door to the pier. Similar to what they used to have at the Burton Chace Park Pier in Marina Del Rey but on a much larger and much nicer scale.
Results: 2.00 Hours fishing
1 Kelp Bass
1 Pacific Mackerel
Day Three, Saturday,
would see my webmaster, Rich Reano, and myself meeting up at the Shelter Island pier for our first attempt at making a YouTube video. We would film several things: Me talking about myself and PFIC, looking inside my pier cart (what's in the bait cooler, the tackle box, and my misc. box), the environment and fishing zones of the Shelter Island Pier, the fish at the pier, and simply talking to anglers. Rich had an afternoon appointment so by the time we were done talking about those things we decided to call it a day and have some brunch.
Rich and I had some really good food at the pier's "Fathom Bistro and discussed the next day's filming. Rich would head off to his appointment while I decided to give the Ocean Beach Pier a visit before meeting up with my son for dinner.
Ocean Beach Pier
— What the heck? Little did I know that Ocean Beach was having an Oktoberfest Festival and that thousands would be crowded into the area meaning that parking was basically a nightmare. I wound up paying mucho bucks at a private lot—que será, será (whatever will be, will be).
The pier is the longest concrete pier in America and though not crowded still had about 80 people on the pier when I arrived. What the anglers didn't have, as far as I could see, was a single fish. Not a single fish and NOT a good sign.
After taking pictures of the end section, which is closed off, (and no one knows if or when reconstruction will take place), I set up just to the right of the restrooms. Up above were a couple of pelicans keeping notice of the action.
The funny things about the pelicans was the reaction to the birds by a group of volleyball players from Portland State that were in town for games against the University of San Diego. Two of the ladies, I imagine around 20 years of age, were absolutely petrified by the birds. They kept saying the birds were watching them and they refused to come near the restrooms because they were afraid the birds would attack them. Adults afraid of pelicans? Had they never seen pelicans in Oregon? I assured them they were safe but to no avail.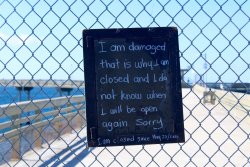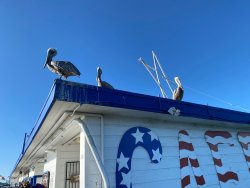 Da Birds​
I too was fishless at the pier for a while. Different baits, high/low and Carolina riggings, and casts to different areas. Finally, while slowly reeling in my lighter rig (a slow retrieve often attracts fish), I had a couple of nibbles. I had small, size 6 hooks on that rig so baited it up with bloodworms and dropped it about six feet under the surface. The first fish was a small topsmelt followed by two grunion and then a large jacksmelt. However, dropping it a few feet further down would soon produce a white seaperch and eventually two good-sized jack mackerel (Spanish mackerel). Nothing to write home about, or to keep, but at least something was down in that dark-looking water. But the fish did not warrant a long visit. Surprisingly, while checking buckets on leaving the pier, I again did not see a single fish. Things were just really dead.
Results: 2.00 Hours fishing
2 Jack mackerel
2 California Grunion
2 Topsmelt
1 Jacksmelt
1 White Seaperch
Continued below — Why consecutive posts/replies? Because a post can only have ten pictures so the post is broken up into several smaller posts.
Last edited: