Headed south last week to do several short YouTube videos and to meet up with several people. Didn't take many pictures but here's what fishing was like.
Ocean Beach Pier, Friday, May 13
—I had a few things to do, including buying some ghost shrimp and bloodworms at SquidCo for the videos, but also managed a morning visit to the Ocean Beach Pier. Fishing was only so so for me although some of the regulars were targeting herring (queenfish) and mackerel and doing better than me. Some of them were netting large batches of smelt and then filleting out strips of the smelt for bait which proved effective.
I did strike up a conversation with Dominique, a young man who came out and was fishing next to me. Turned out he was graduating in a few weeks from El Capitan High School, my old high school. Interesting discussing some changes: (1) We had our prom at the Hotel del Coronado while they are having their prom in then downtown library (a nice place), (2) We had an after prom at the University lanes bowling alley while they do not have an after prom, (3) We had our graduation at the Aztec Bowl on the San Diego State campus (now torn down and turned into the basketball arena) while they are graduating on campus. Times have changed. He, by the way, was trying to capture some mackerel to use later in the night when he was going to meet up with some buddies for 7-gill shark fishing in the bay. He showed me some impressive pictures of big sharks. Dominique started using a Sabiki but later switched to a small Jigpara lure and caught a couple of barracuda in addition to the mackerel.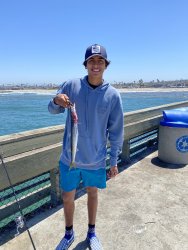 Ocean Beach Pier, 7:45-11:45 a.m.
7 Pacific Mackerel
1 California Grunion
Crystal Pier, Saturday, May 14
—My old stomping grounds. We were filming at the pier and showed some fish being caught but unfortunately a couple of bigger fish were caught before Rich arrived. I was hoping to interview some of the anglers who have caught yellowtail but only one showed up and he showed me the rigging he used (as well as catching a small bat ray). I used a combination of a Sabiki for a while and high/low riggings. A beautiful day.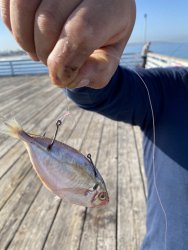 Yellowtail rig and bait​
Crystal Pier, 7:45 a.m., fished off and on for two hours
25 Pacific Mackerel
7 Pacific Sardine
1 Shovelnose Guitarfish
Oceanside Pier, Sunday, May 15
—Once again we were filming and we managed to film some fish being caught as well as interview many of the regulars. After filming on the pier we headed over to the "Top Gun House" near the front of the pier where we had some apple pie and shot another short film.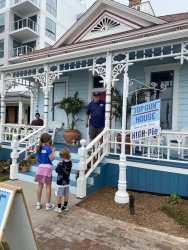 Top Gun House​
Oceanside Pier, 8:10-10:10 a.m.
15 Pacific Sardine
8 Pacific Mackerel
1 Jack Mackerel
1 Walleye Surfperch
Oceanside Harbor Pier, Sunday, May 15
—We were able to do a short film at the pier but unfortunately hardly any fish were being caught (which tends to downgrade the film).
Oceanside Harbor Pier, 2:00-4:45 p.m.
1 Kelp Bass
1 Jacksmelt
San Clemente Pier, Monday, May 16
— Got up early in Oceanside and drove to San Clemente but I found the pier basically deserted. Due, I am sure, to the slow fishing. Only a few fish but Hashem joined me later in the morning so had some good conversation on a variety of topics. Of interest was a guy using a drone to send out a bait to a distant reef where he said he caught sheephead. No sheephead this day.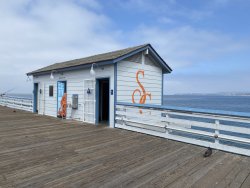 San Clemente Pier, 7:20-11:20 a.m.
3 Jacksmelt
2 Yellowfin Croaker
1 Queenfish
1 Walleye Surfperch
1 Topsmelt
Newport Pier, Monday, May 16
—After driving to Newport, checking into the motel, having some lunch, and trying to take a short nap, I finally headed over to the Newport Pier. The pier had few anglers as the end is closed by a fence while they tear down the old restaurant. Few fish were being caught (and no five-foot-long white seabass) and I didn't feel like staying long.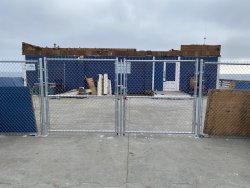 The end of the pier at Newport​
Newport Pier, 5:30-6:30 p.m.
1 Pacific Sardine
Balboa Pier, Tuesday, May 17
—Was planning to meet up with Snookie and her gang at the pier. Started at the end and moved to mid-pier when Snookie showed up. Later Hashem showed up and we all had a good time telling our various fish stories (and a hundred and one other stories). Really enjoyed seeing an old time tackle box similar to one that I once had (before it was stolen) and some old time tickets and booklets. Also enjoyed the birds—egrets and night heron that were at the pier.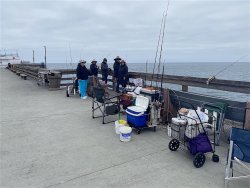 Snookie and her gang at the pier — they meet every Tuesday and Thursday morning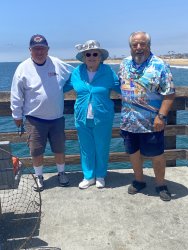 KJ (yours truly), Snookie and Hashem
​
Balboa Pier, started at 7:30 a.m., fished off and on for three hours
2 Pacific Sardine
1 Jack Mackerel
1 Jacksmelt
1 Topsmelt
Headed to lunch and found out when I got out of my car that I could hardly walk, a condition that lasted throughout the rest of the day and night. I was staying in Long Beach and planned to go fishing the next morning at the J Pier pier but couldn't sleep. Finally decided at 3:30 a.m. to just head home and made 70 mph driving the freeways of LA on my way out. Still having trouble with my back and walking so will probably have to see the doctor this week. It's .... getting a little older.
The end.
Last edited: