Fished the incoming tide at Sierra point 8:am - 1:30
m I didn't expect to catch anything good it's more of a go and relax thing for me any keeper fish is a bonus! So I got the day off from work and kids and Wifey !!!! Not saying I don't love any of these things BUT DAM TIME TO MYSELF Woot!. Used sardines on my slider rig got a small bat ray that I released and a few bites I didn't hook. Tossed my casting net at the end of the pier and caught some small smelt soaked one for another miss. I was also plugging "using this as an excuse as to why my bait rod missed hooking up a solid bite"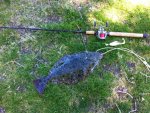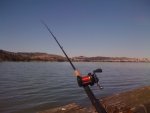 plugging the seawall and rocky shoreline from the base of the pier using a 1/2 oz brokeback rebel got a fat hit I lost so after 30 or so more cast "wind kept tangling it up in my line" I then switched a a heaver lure a 3/4 oz white hairaiser casting from the left side and right side of the pier 50 or so cast later towards the rocky side of the shore i am like
————
a snag then it starts to pull oh yeah fish on....... landed a keeper halibut hurt my knee like
————
climbing down the rocks to get my prize............