Was looking around on eBay when I searched for rod guides and a bunch of Chinese no name brands showed up. $1.50 for seven spinning guides and a tip. $2.00 for conventional guides. All marked "stainless steel", but then again, might just be some random metal. 1-2 month free shipping.
Thinking of rebuilding an old rod of mine, from a spinning to a conventional rod, but I never had any guides. Are these worth a try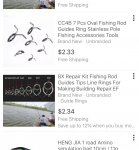 from you guys' experience?