This past week I was in the southland for a few days and, of course, fished a few of the piers. Unfortunately the weather was not the greatest (barely even saw the sun) and the fishing was even worse.
(1) Sunday, May 21
— I stopped by Big Fish in Seal Beach a picked up a little bait before heading over to the Seal Beach Pier. However, it appeared a crane was out at the end and the entire end area was closed off. I then decided to head down to the Huntington Beach Pier
Huntington Beach was very crowded with people and all the parking lots said full. However, given that cars were leaving, I figured there must be some spots so decided to head in and soon had a spot. The front of the pier was crowded with people. On one side a beach volleyball tournament was going on while on the opposite side a surfing competition was taking place. Given that the inshore area was crowded, I headed out to where the bathrooms are located. The area sometimes produces fish and the one side can provide relief from the wind and that day there was a chilly wind.
Fishing was very slow. In one hour I only managed to catch four walleye surfperch even though I tried lug worms, pieces of mussels, pieces of salted anchovy, and pieces of squid. Then two young guys showed up and settled in next to the building. One was smoking pot and I don't like the smell while the other was drinking. Unfortunately they were playing music, playing it very loud, and it was just about the foulest rap music I have ever head. Every line was f... this or f... that and describing what they were going to do to girls. I finally got sick of the music and headed out to the end.
All told there were not more than a couple of dozen people on the pier and the ONLY fish I saw on the pier were those four walleye surfperch and two tiny smelt that a lady caught with a Sabiki. Everyone appeared to be skunked (as was I out at the end).
Total for the Huntington Beach Pier
: 1:45-3:45, 4 Walleye Surfperch
(2) Monday, May 22
— after a morning business meeting I met up with Hashem at the Redondo Beach Pier for a late lunch/early dinner. A great meal (as always) at Tony's and then we went fishing. Again it was slow; the usual crowd of mackerel fishermen were at the left end corner but action was nonexistent for the most part. Mackerel would occasionally be caught (mostly jack mackerel) but it wasn't the hot mackerel action so common at the pier. I decided to fish the halibut area on the left side (the old wooden area) where last trip I had caught a kelp bass and halfmoon but couldn't even get a bite. I finally joined Hashem at the end where he was casting a Sabiki for mackerel and had caught a few. I was fishing the bottom but only saw a lone shinerperch. I did try a few casts with the Sabiki to test my shoulder and was rewarded with one mackerel but decided to continue fishing on the bottom.
I was wearing my PFIC sweatshirt and an angler came over and asked if I might be Ken Jones. Turned out his name was Christian, he is a regular visitor to PFIC, and though he doesn't post he's read many of the articles and checks out the message board. He had taken a friend who had never fished to the pier and was trying to get him some fish. Using a Sabiki they had managed a couple of mackerel so the man had now caught a fish. We had a nice conversation and it made up for the slow fishing.
Total for the Redondo Beach Pier
: 4:40-6:40, 1 Pacific mackerel and 1 shinerperch.
(3) Tuesday, May 23
— I would fish three piers this day. The first was the Hermosa Beach Pier. They were working on the pier throughout the shallow end area so the surf area was out, and the wide end section was closed off. I set up by the fence at the end and was the only one on the pier when I started fishing (three more by the time I left). Given no one else was fishing I figured the fishing was slow and I was right. Using a variety of baits all I could scrounge up was speckled sanddab, topsmelt, a small perch and a crab. However, there were a lot of dolphins in the water so it was a pleasure watching them even if the fishing was slow.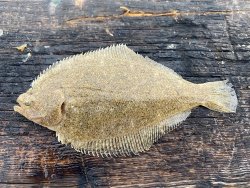 Total for the Hermosa Beach Pier
: 7:45-9:30 a.m., 5 speckled sanddab, 1 topsmelt and 1 shinerperch.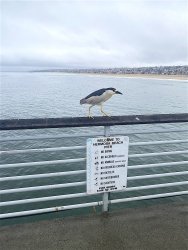 A Night Heron at Hermosa​
Manhattan Beach Pier — The second pier for the day was the Manhattan Beach Pier where I met up with Hashem and FishNinja. I think we were the only fishermen, at least initially, and we didn't have much luck. So sad to see the anti-fishing sentiment on the pier (a result of the battle a few years back over the "Great White" incident). You are not supposed to cut up bait (and there's no place to cut bait except on the ground or pier), not supposed to have multiple rods, not supposed to chum, etc. Plus the railing looked to be in bad, rusty shape.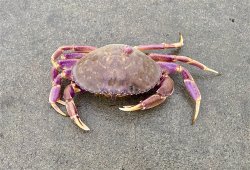 However, it was nice finally meeting up with FishNinja and we had some good conversation. We would all head up to an excellent restaurant, The Kettle, after we were done fishing.
Total for the Manhattan Beach Pier
: 11:00-12:45 p.m., 2 topsmelt and 1 round stingray.
Venice Fishing Pier — After the late lunch and checking into my motel I would head up to the Venice Pier. Unfortunately Venice looks worse than ever but I was concentrating on fishing.
Once again the pier was largely devoid of fishermen with only four others when I arrived. In addition, the water was calm with little if any current, usually a bad harbinger of success.
I didn't expect much and wasn't too disappointed when I only caught five fish. I did have a couple of surprises. The first was when I saw a fellow angler catch a small barracuda on a lure. I said I can do that and tossed out a JP Jigpara 10 G Micro. Sure enough I too was rewarded with a barracuda. But even though I would continue to toss out the lure I wouldn't see any more barracuda. I also pulled in a small bocaccio, a more common fish to the piers to the north.
I was just a little tired out and didn't stay long but the pier was probably the best for the piers I visited and it might have warranted a longer visit.
Total for the Venice Fishing Pier
: 5-6:30 p.m., 2 white croaker, 1 queenfish, 1 barracuda and 1 bocaccio.
(4) Wednesday, May 24
— I wanted to visit Wiley's Bait and Tackle in Malibu since I haven't been able to get through on the telephone to my good friend Ginny Wiley for the last couple of months. The shop was closed and looking through the window revealed clear plastic placed over the front counter. However the phone is still working. I am wondering if Ginny had an accident and continues to be unable to work. I just hope she's all right and will continue to see what I can find out.
Given I had made it that far I continued on to the Malibu Pier for a short visit — I wanted to leave LA by around 12 to avoid the afternoon traffic mess (although I hadn't been able to avoid the morning freeway mess.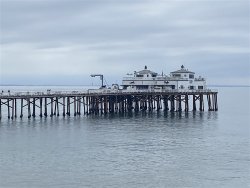 Malibu Pier​
Once again I found a largely deserted pier with only three fellow anglers (always a bad sign) but I would give it a shot. I initially set up out at the left end near two fellow anglers. I was going for perch while they were seeking out halibut. We talked a little and after I gave them a live topsmelt I had caught for their bait they offered me some fresh mussels they had scrapped up somewhere. A nice trade although I thought I got the better of the deal.
The fish weren't biting but we discussed fishing and PFIC so maybe we will get a couple of new people on the site. I finally moved more inshore expecting some walleyes even if nothing else but didn't even get a bite. However, the lone angler fishing inshore pulled up a nice fat kelp bass so at least one nice fish was caught on the pier.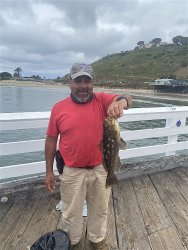 A nice kelp bass by Vincente. ​
Total for the Malibu Pier
: 9:30-11 a.m.,1 topsmelt.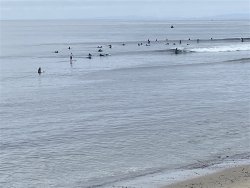 More surfers at the adjacent Surfrider Beach (of Gidget fame) than fish at the pier.​
Although it was the second worst fishing trip I have ever made to the LA area there were still a lot of positives. (1) I met up with Hashem, FishNinja, Christian, and other anglers and I always enjoy meeting new anglers. (2) Although the weather was cool (60s) and I think I never saw the sun, it was a pleasant change from the high '90s that I was seeing in Fresno. (3) I got a chance to fish and see how the shoulder is holding up. There's probably no more overhead casts with heavy rod/reel but no problem with underhand casts and light/medium gear. I saw a lot of dolphin, a lot of birds, and some nice ocean scenery when mankind didn't intrude. I always count the environment as a part of the fishing experience. All in all a pleasant break from the normal day to day time at home.