Headed down to the southland Monday for somewhat of a short and relatively unplanned trip. The main purpose was to be interviewed for a Jeff Zeverly, "Zeverly Zone" video, which is part of the Channel 8 News in San Diego. Sort of a "who's this crazy guy who's fished all of California's piers and why?" Actually, it was interesting and I'm hoping the video turns out OK. A second purpose was to spend some time with my son in Carlsbad. A third purpose was to do some fishing after having been stuck in the 100-degree weather in Fresno.

Monday would see me heading south and given the bait situation in Oceanside I decided to stop at "Big Fish" in Seal Beach. And, given that I was ahead of schedule, I decided to give the Seal Beach Pier a little of my attention.

Seal Beach Pier

—

Heading out on the pier I saw a couple of anglers calling it a day and I asked how they had done. "Good mackerel fishing on the left side of the pier just past the gates," (near the end of the pier, about where the pier widens). I always say listen to the locals so that's where I went. I would cast out two rigs, one a Sabiki with green feathers, the preferred Sabiki for mackerel anglers, and a second with a hi/low rigging (with a variety of baits (cut fresh mackerel, lug worms, pieces of market shrimp, and even some squid). The mackerel were indeed available and I managed a few fish in the time I was there.

August 15, 2022, 2:50-5:35 p.m.

Hours: 2.75, Fish: 42, Points: 90

33 Pacific Mackerel (both small-sized and good-sized fish. Most were released but some were kept for fresh bait.)

3 Salema

3 Grunion (a little surprising)

1 Pacific Bonito (a pleasant surprise)

1 Queenfish

1 Topsmelt

Pacific Bonito​
San Clemente Pier
— I had some business to finish that night but would be ready the next morning. San Clemente is one of my favorite piers. It usually shows some good action and a good variety. Although anglers said the fishing had been good the day before, this day would not be the same. There was absolutely no water movement, which I always think is a bad sign and it would prove true again. The same anglers who said they caught halibut and white seabass the previous day would, like me, see few if any fish. Actually not a totally accurate statement since some anglers, using fresh mussels and fishing just inside the restroom area, showed some decent-sized spotfin croaker for their efforts.
August 16, 2022, 7:55-10:40 a.m.
Hours: 2.75, Fish: 11, Points: 16
10 Jacksmelt (not exactly what I wanted but at least there were some decent-sized jacksmelt).
1 White Seaperch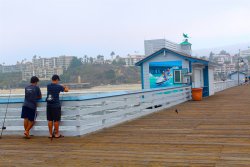 Oceanside Harbor Pier
— I had a meeting set up for late in the afternoon so had some time to fish this small pier. I had been here in May with desultory results and hoped for some improvement. When I arrived it was basically high tide so I decided to concentrate on the inshore rocks with one rod while casting parallel to the shoreline with the second rod (mainly using lug worms, some frozen mussels from my freezer, and some market shrimp). The rocks would produce most of the fish of which several were noteworthy. The first kelp bass I pulled from the rocks was nearly legal-size while the two garibaldi were large fish with their usual tenacious, rugged fight. Of course they had to be returned to the water. Two small fish were the rock blenny and the bay blenny. Although I have caught several rockpool blenny over the years, the bay blenny was a new species for me, the 132nd species (whoopee). A short visit but some fun fish.
August 16, 2022, 12:00-2:30 p.m.
Hours; 2.50, Fish: 12, Points: 22
4 Kelp Bass
2 Garibaldi
2 Topsmelt
1 Opaleye
1 Giant Kelpfish
1 Rockpool Blenny
1 Bay Blenny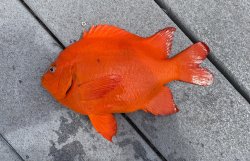 Oceanside Pier

—

The emphasis would be on making a video. Stand in this spot, don't move, just relax, and answer the questions. Sure. After the questions show some fishing (with no pressure to catch a fish). Of course I didn't catch a fish although I showed fishing with a lure, fishing with a Sabiki, and showed how to fish a hi/low rigging. I let Jeff cast the rod with the lure and sure enough he hooked a small kelp bass. So much for that! I fished a short time after the filming but the fishing was very slow. I actually wasn't feeling good and called it quits after an hour. I was very hot and it was very muggy and I think I just had too much sun. I needed to find a spot to relax and get a real cold drink (which I did).

August 17, 2022, 10:45-11:45 a.m.

Hours: 1.00, Fish: 3, Points: 4

2 Queenfish

1 Topsmelt

Dana Harbor Pier

— After the filming I would begin heading home (although spending the night in Newport Beach). I would stop at Hogan's Bait and Tackle in Dana Point, get some additional lug worms—and a new reel. How about one more pier? I decided to head down to the small pier in the harbor. I would catch one spotfin croaker on lug worms and farmed what seemed a good strike but would stop after one hour. I still didn't feel well, my back and legs were really hurting, and after an hour I needed to head to the hotel and a bed. Getting old?

August 17, 2022, 1:50-2:50 p.m.

Hours: 1.00, Fish: 1, Points: 4

1 Spotfin Croaker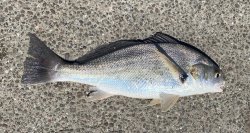 Spotfin Croaker​
I would go to bed very early and had somewhat of a rough night sleeping with my sore back but the next day would see the return drive home.
J Pier — Long Beach
— No matter the sore back, I wanted to fish one more pier, the J Pier in Long Beach. I had only fished it once, been impressed, and wanted to see how it was during a summer visit.
I would again fish two rods, one a light action rod that I used to fish around the inshore rocks (with lug worms), the other would be cast out straight or parallel to the rocks (with lug worms, cut mackerel, shrimp or squid); the inshore waters parallel to the shoreline proved more productive than a longer cast into deeper waters. The visit produced a nice mix of fish with a couple of decent-sized blackperch, a nice-sized opaleye, a large mackerel, and several more blenny, one another bay blenny (a new species and two in two days).
August 18, 2022, 7:05-10:50 a.m.
Hours: 3.75, Fish: 16, Points: 31
3 Blackperch
3 Shinerperch
2 White Croaker
2 Rockpool Blenny
1 Opaleye
1 Kelp Bass
1 Pacific Mackerel
1 Queenfish
1 Topsmelt
1 Bay Blenny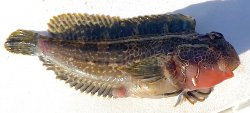 It was a strange fishing trip with the various diversions and self-imposed short visits (due to various ailments) but it was also great getting into some cooler weather (relatively speaking) and seeing some interesting variety, which I always enjoy.
I hope to make another visit in September and hope to again see some decent fishing and variety of fish. Perhaps the trip can be announced beforehand and perhaps we can see a mini gathering of pier rats?