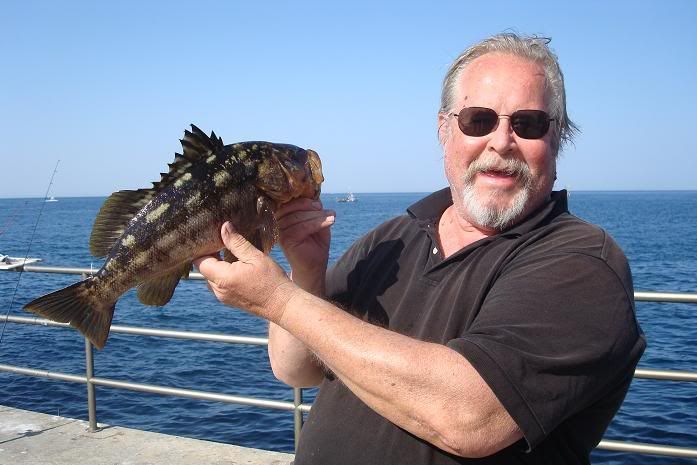 Last weekend, my family was unable to attend the Catalina get-together (newborn and all). Now that Nathanael is a week old--and since a couple of my brothers and their girlfriends are finishing their dive certification at the island this weekend, Brandy thought it would be a good idea to join Mom, Dad, and the rest of the crew for a day at the Mole.

Never one to be threatened by a good time, of course I was in.

If you're considering taking a baby to Catalina, do note that the Catalina Express charges $4.00 for a round-trip infant ticket. Also interesting for me-- since there is a modicum of planning that must go into taking a baby (and fishing gear, for that matter) anywhere, we opted for the 10:45 boat from San Pedro.

When we arrived, my mom and dad were fishing with brothers Dan, Zach, and Jonny. Mom had already caught a 15 inch grass rockfish--one of the biggest I've ever seen--fishing straight down with a hi-lo, 6 lb. test Daiwa El Cheapo combo, and a strip of squid. Dad added a monstrous treefish, to which Mom responded with a smallish kelp rockfish, making it a Sunday Sebastes Sabbatical of sorts.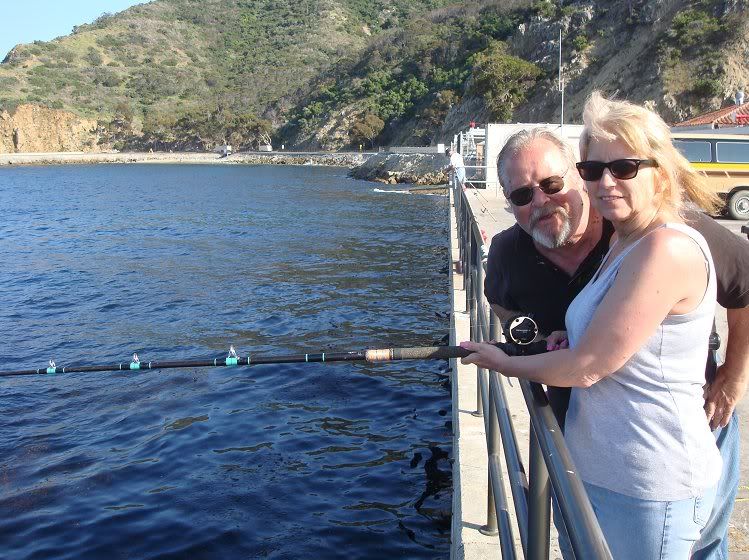 After trying in vain for bonito, I switched to fly-lined peas, using size 10 Gamakatsu live bait hooks and 4 lb. fluoro leader. I caught numerous opaleye to about 1.5 lbs. and plenty of blacksmith and blue perch to boot.

After a noon-time lull, the current picked up with the growing Santa Ana winds, the kelp lay down, and the calico bass bite turned on in a big way. The family caught numerous bass including several legals and a few bigguns in addition to the usual 6-11.999" models that frequent the Mole. All were caught on sliding sinker rigs, using a bead and a small live bait hook baited with a long strip of squid. Definite early Spring set-up for calicos.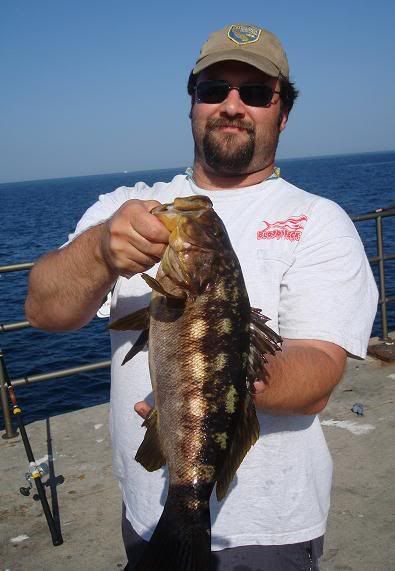 The bonito were strangely absent this trip, and one local said that they haven't seen them since "a big group was here last weekend and grabbed a few big ones."

Brandy spent the vast majority of her time attending to our newest addition, but Nate seemed to enjoy his first fishing trip to Catalina (not bad for a ten-day old) although he stayed in the shade most of the time. I taked him out into the sun for a family pic.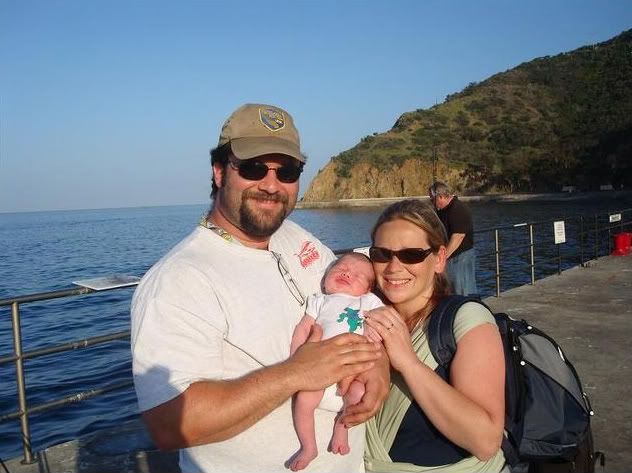 At $60 a head for a round trip ticket, this isn't the kind of place I'll fish every weekend...it's an expensive pier trip. Still, I suppose you can't put a price tag on good times spent with family, and once again, Catalina delivered.


____________